Abdeslam
Ziou Ziou
Berrechid 81 :
A look back at a collective experience
at the edge of art and
psychiatry
A Public Programme by Abdeslam Ziou Ziou

31 May – 5 June 2021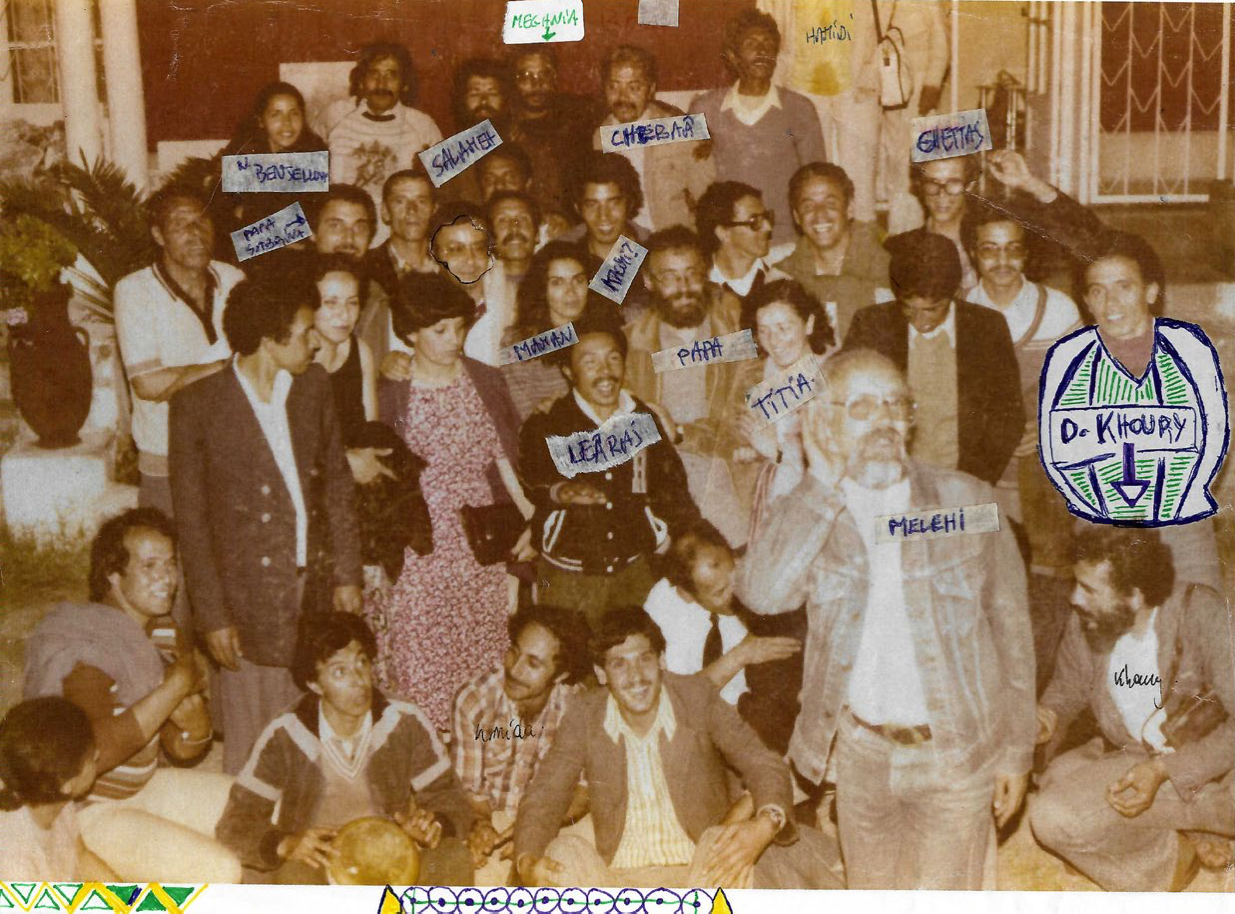 Group photography in front of Dr Ziou Ziou Abdellah's service accommodation in Berrechid. June 1981. Archives Dr Ziou Ziou
At the end of a 6-month research residency, Abdeslam Ziou Ziou developped a week-long programme, in June 2021, 40 years after the "Moussem" of Berrechid.
The "Moussem" brought together artists, patients, doctors, hospital staff and the public, between the 20th and the 30th of May 1981, on the initiative of his father, Doctor Abdellah Ziou Ziou.
Abdeslam Ziou Ziou originated his program organically, as his fieldwork, discussions and transcribed interviews, annotated photographs and a rich and diverse bibliography progressed. He brought forward this collective endeavor to resist normative standards and paid tribute to the individualities who formed it.
-Salma Lahlou
Open Studio
Berrechid 81: Installation of archives
Berrechid 81 unfolds the different steps undertaken for research by Abdeslam Ziou Ziou on a collective experience of mental health care in Morocco between 1975 and 1986, based on the archives of Dr Ziou Ziou. Berrechid 81 is divided into three parts, taking the title of an essay by Dr Ziou Ziou published in 1992 and entitled: Madness – Poetry – Resistance. Each part includes sub-themes that contextualise and highlight the work carried out by Dr Ziou Ziou in the field of psychiatry in Morocco. The fieldwork has opened up a multitude of research areas ranging from the history of psychiatry in Morocco, to the intersection of art and psychiatry, while weaving an intimate ethnography of resistance to the medical and psychiatric institution.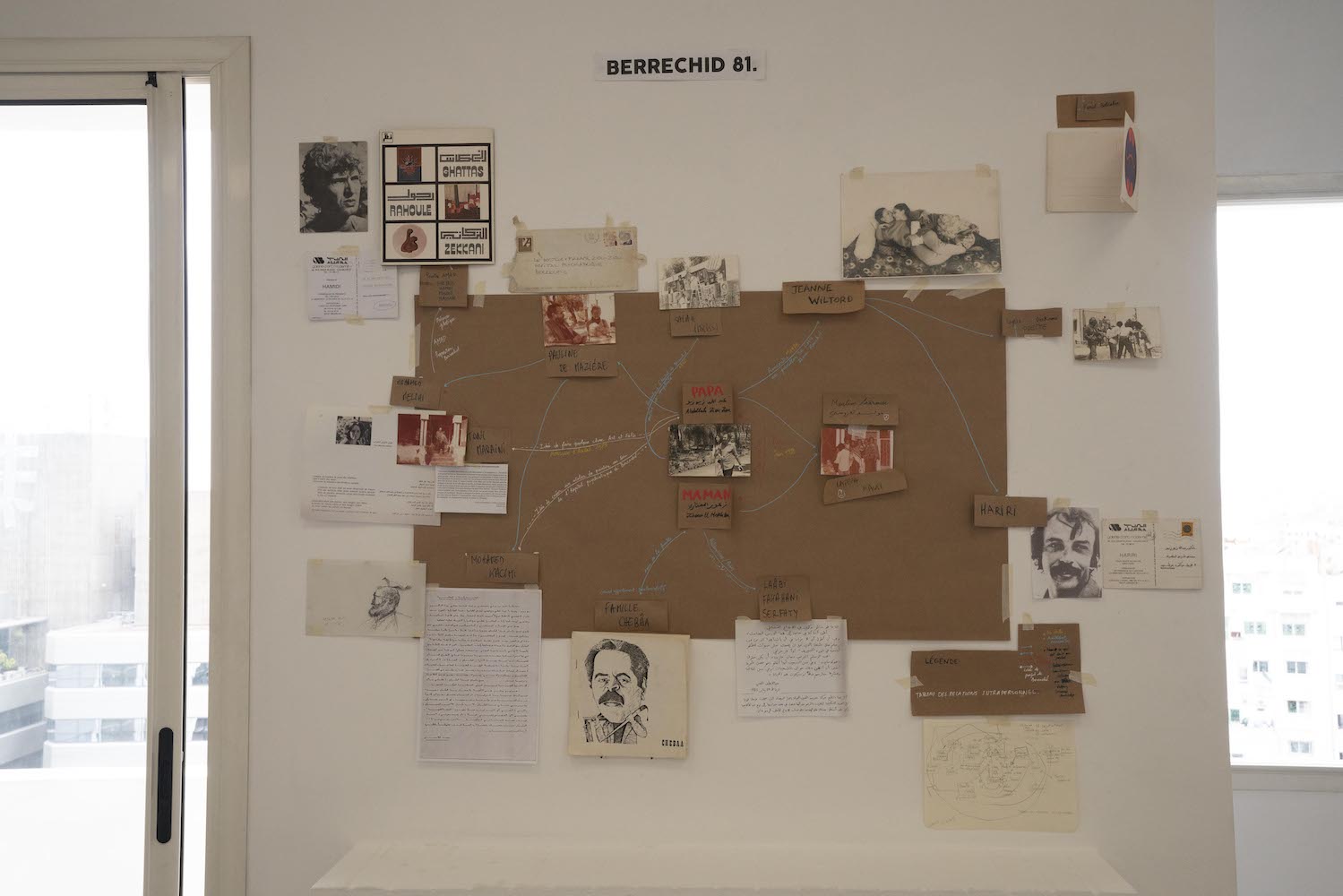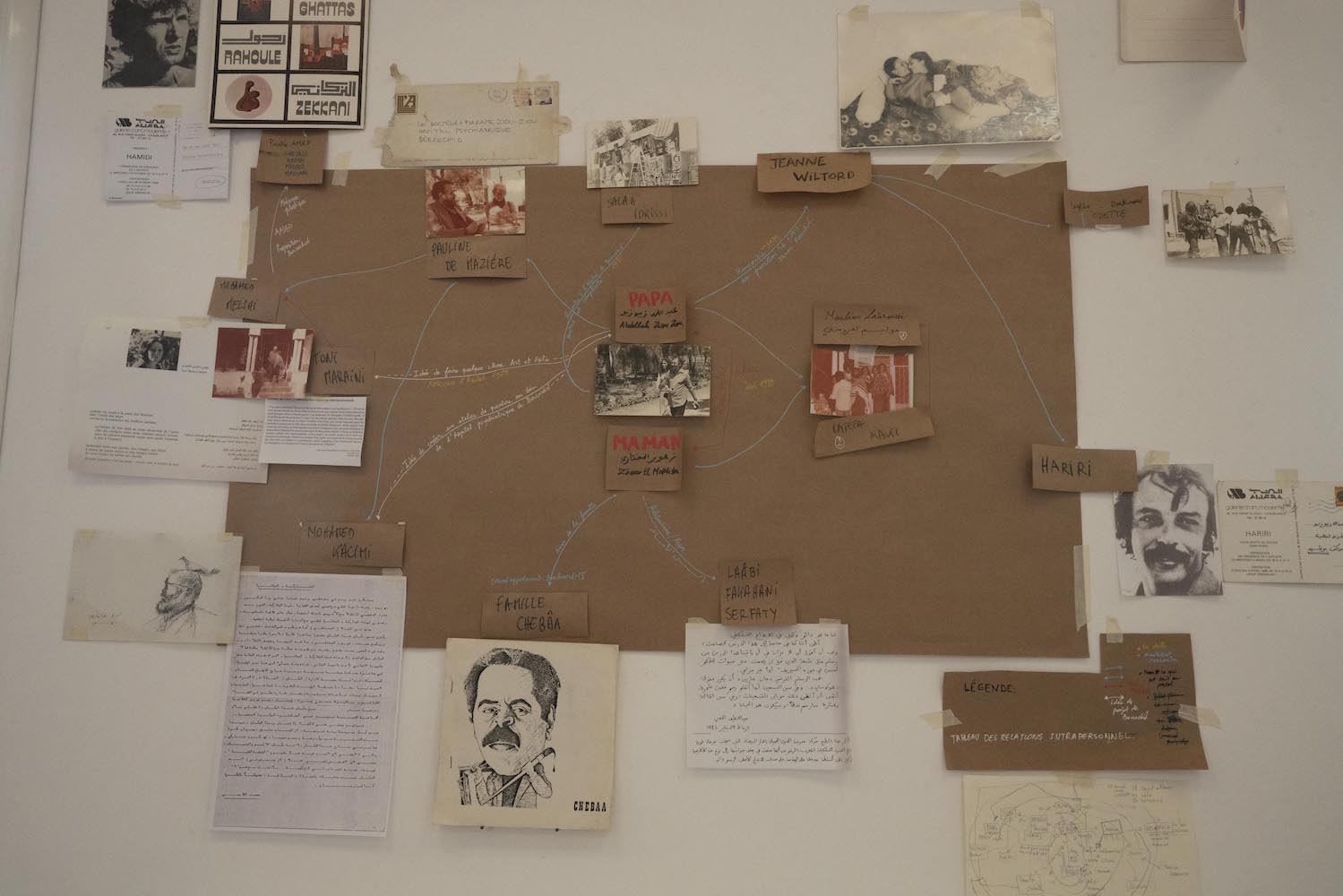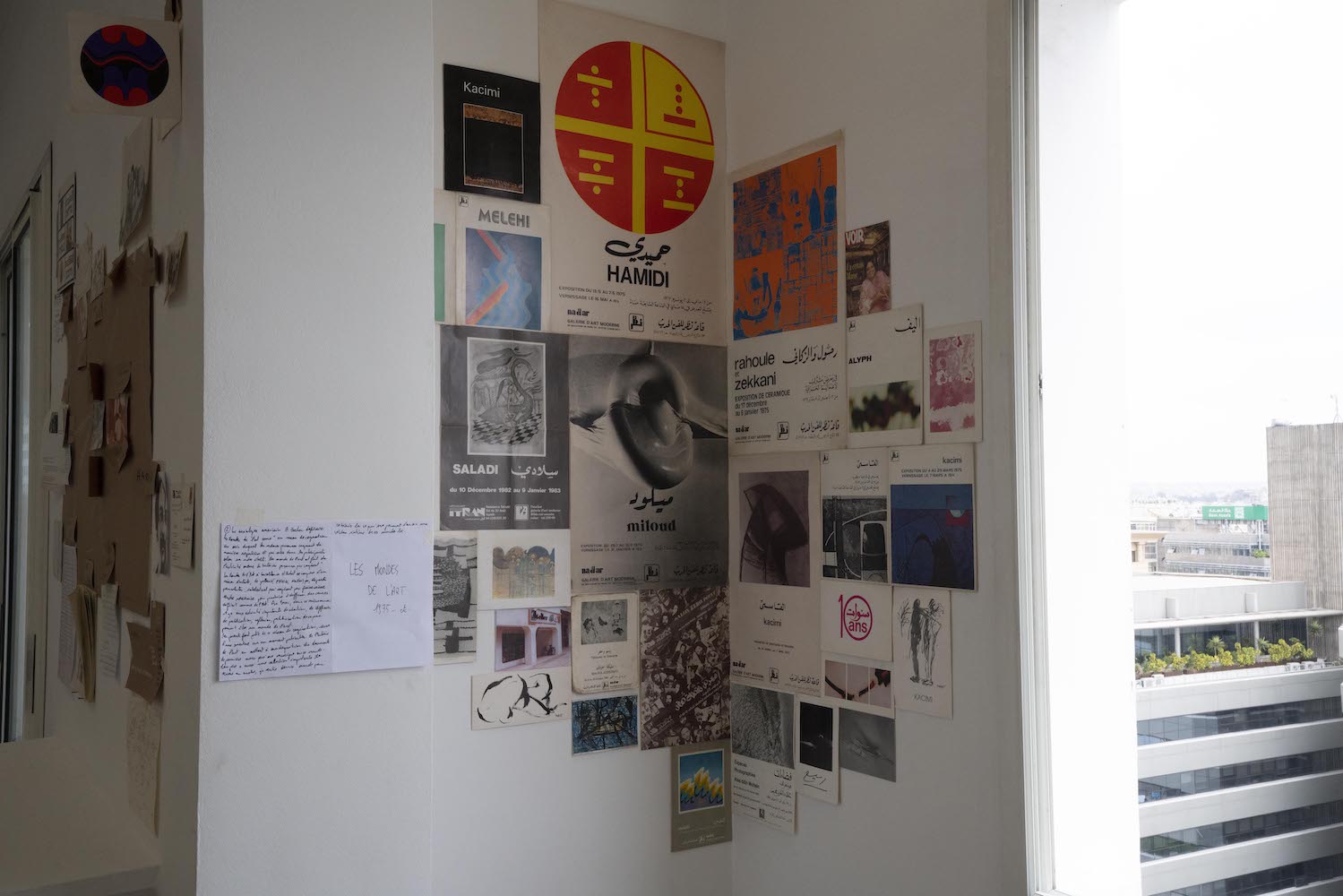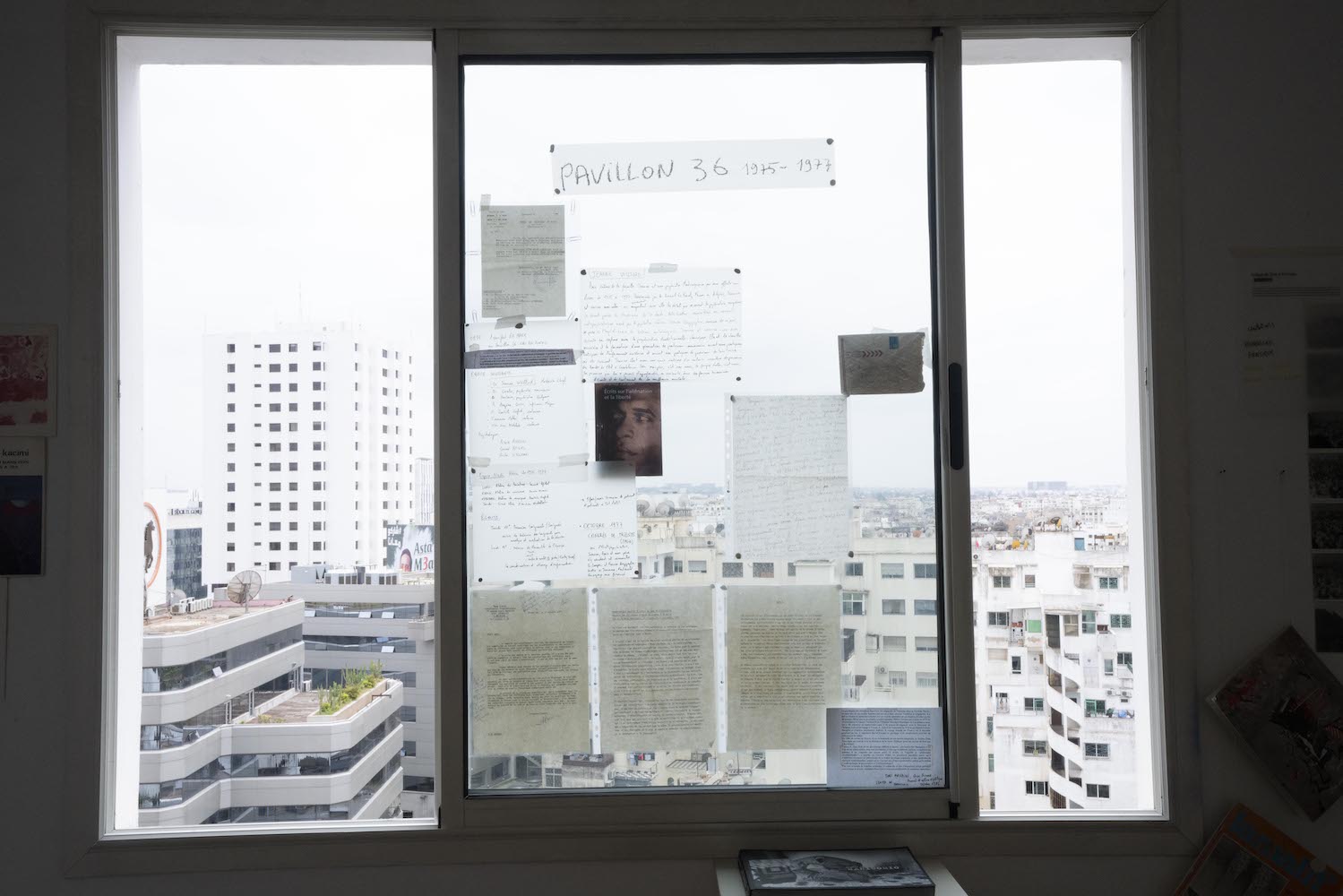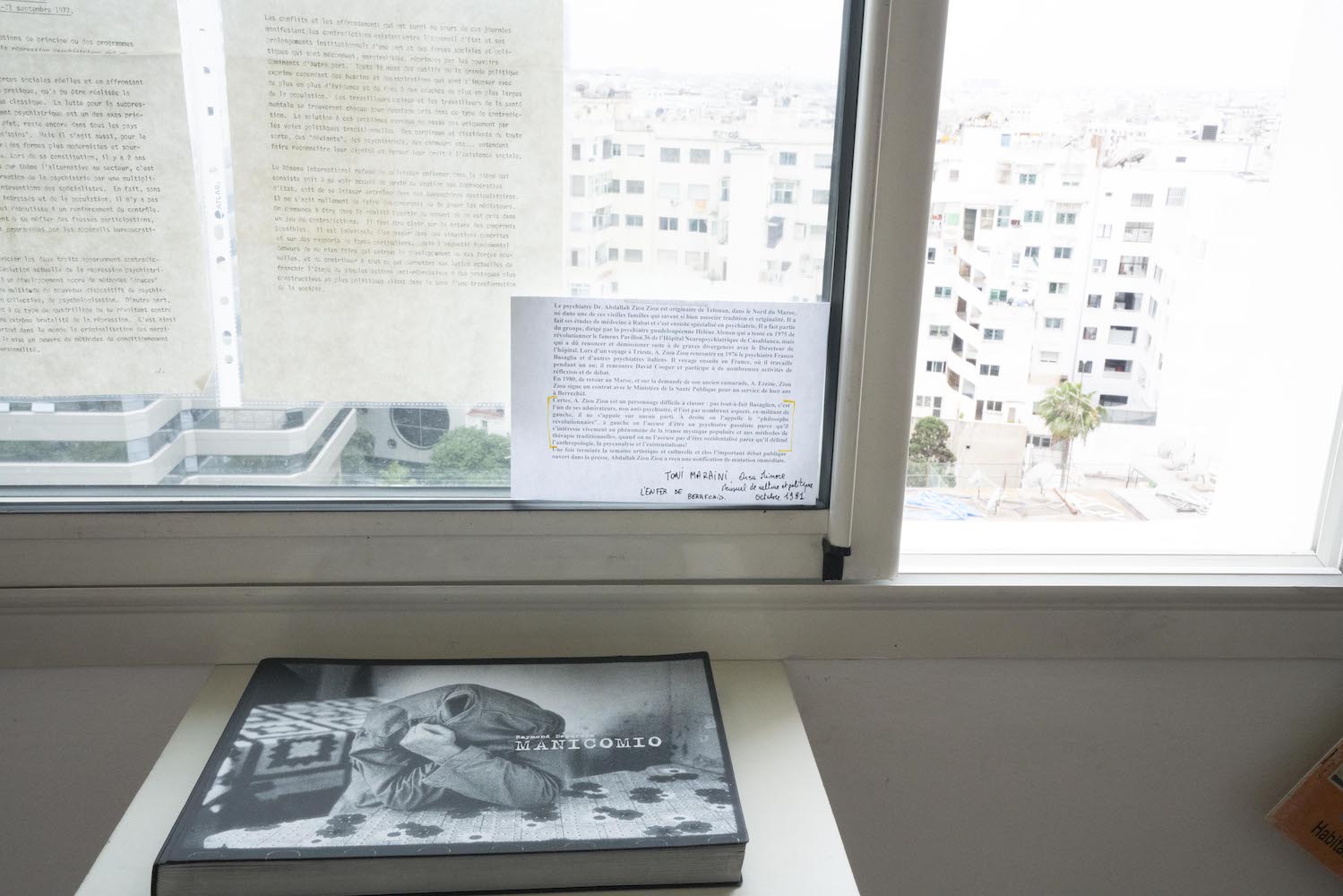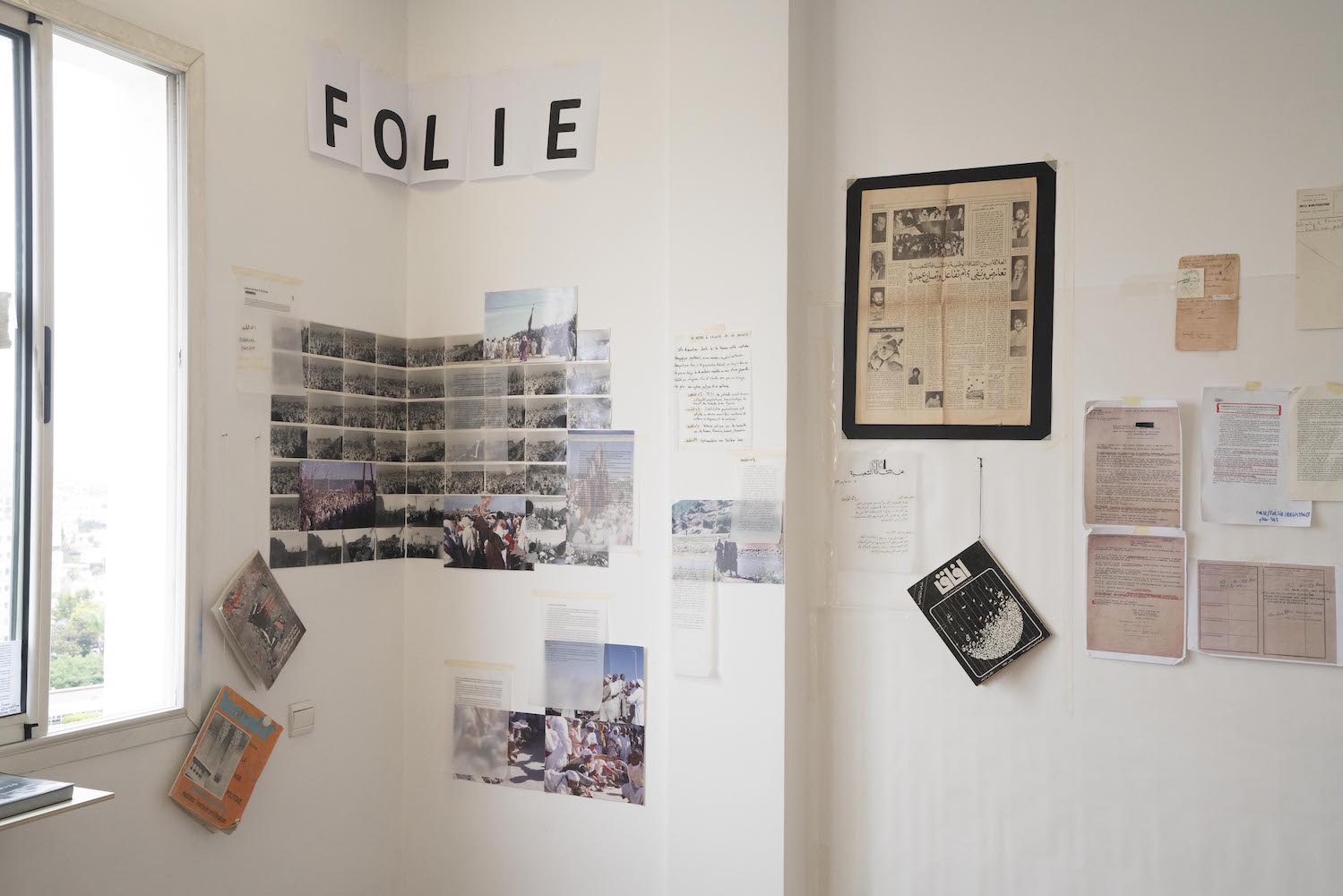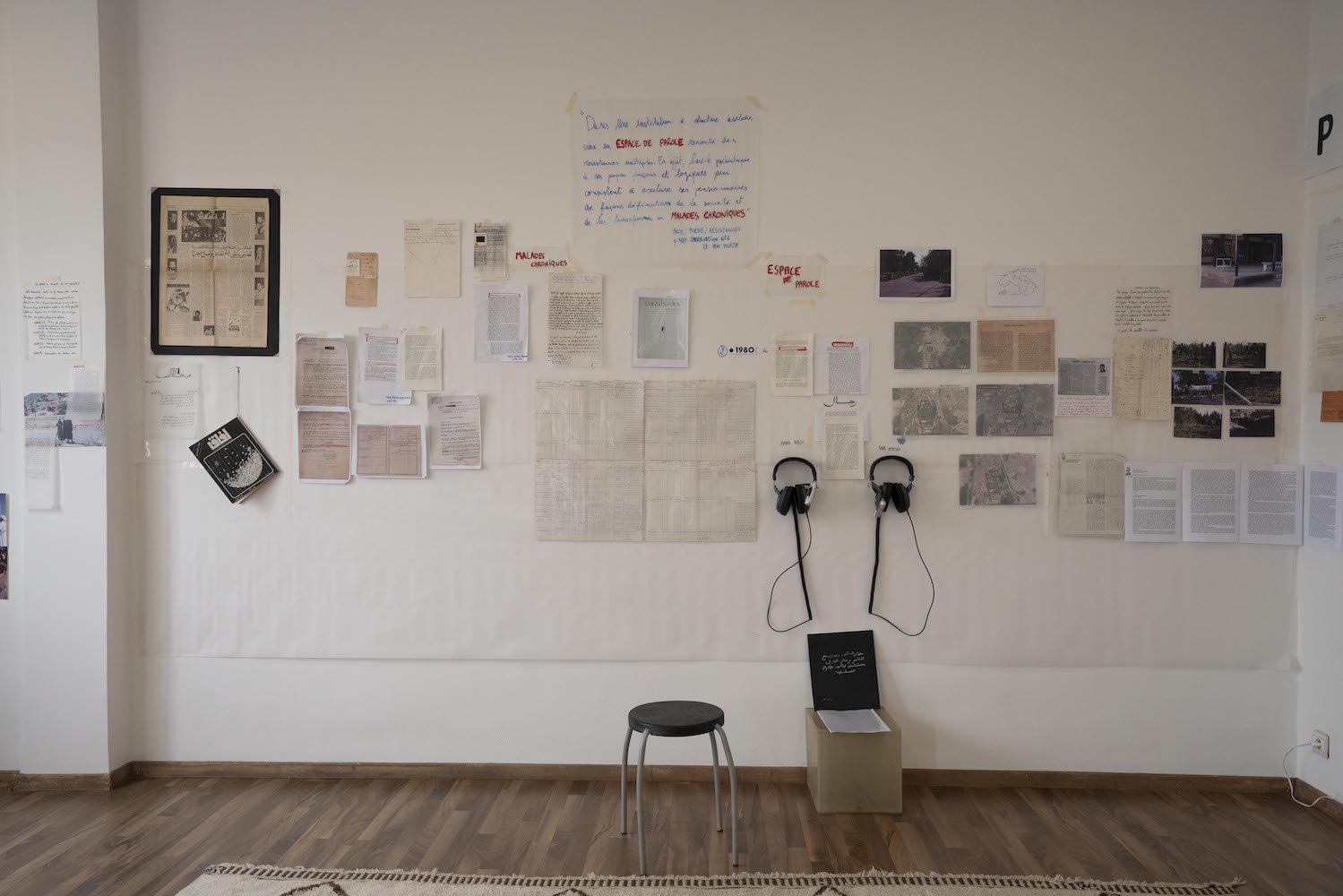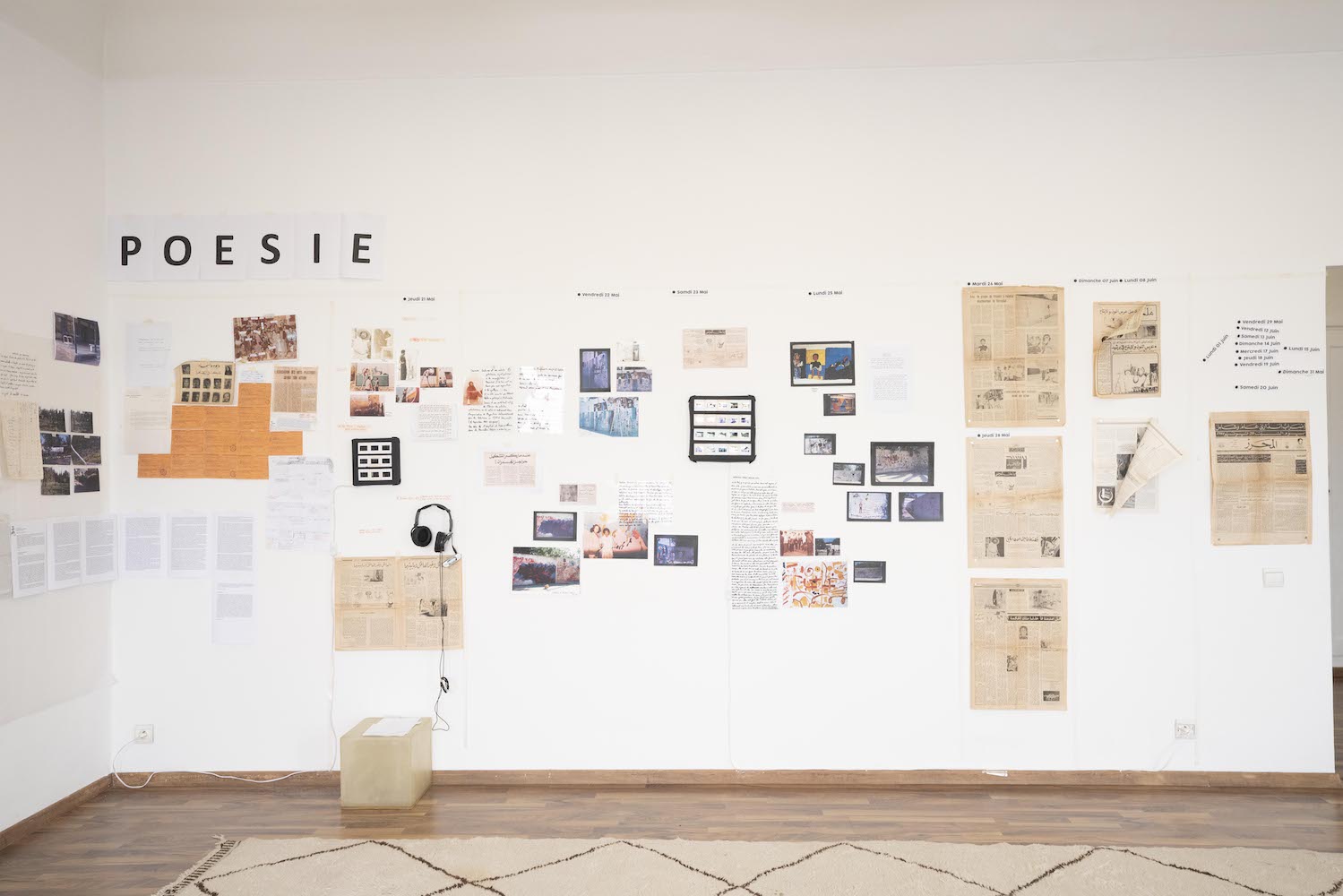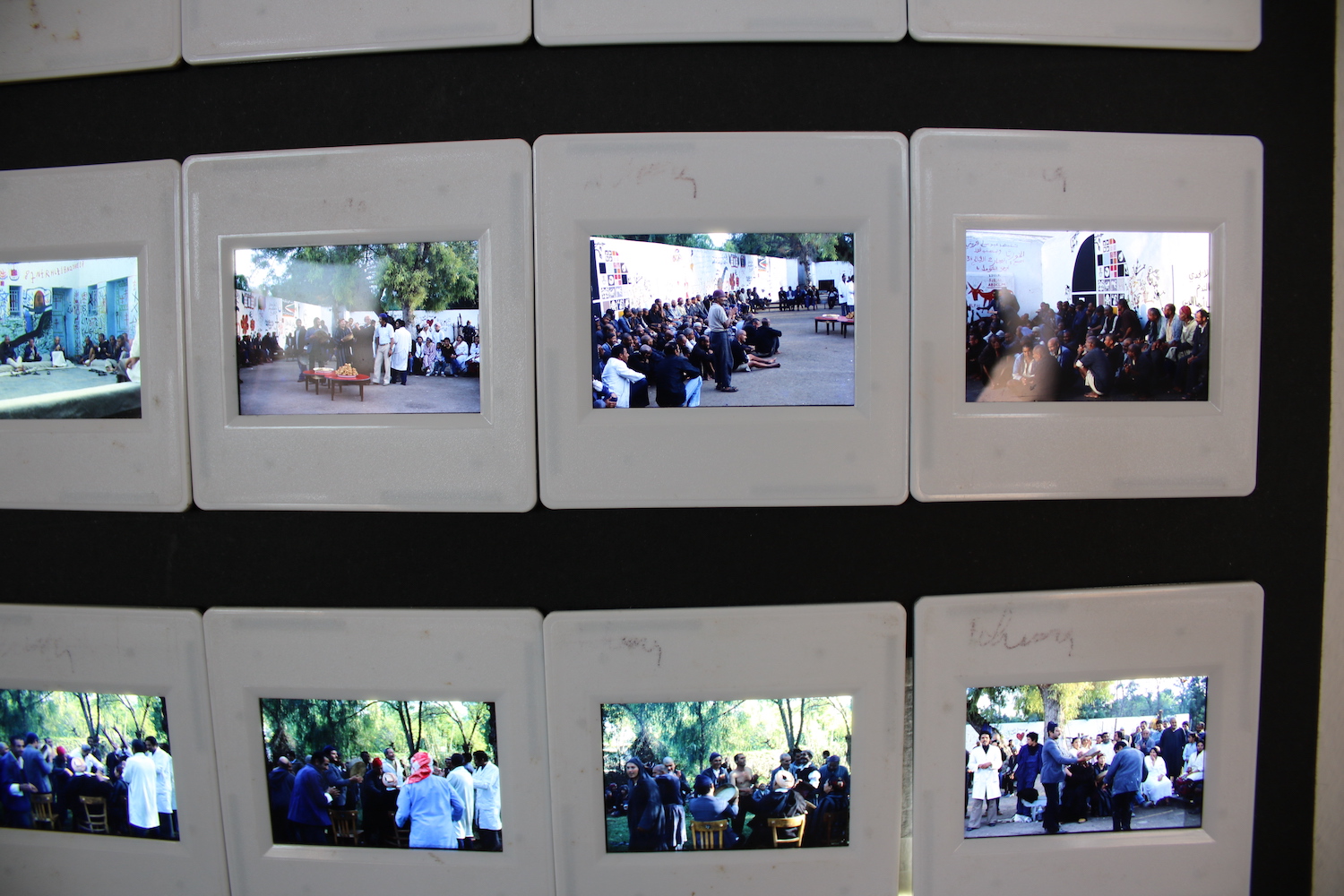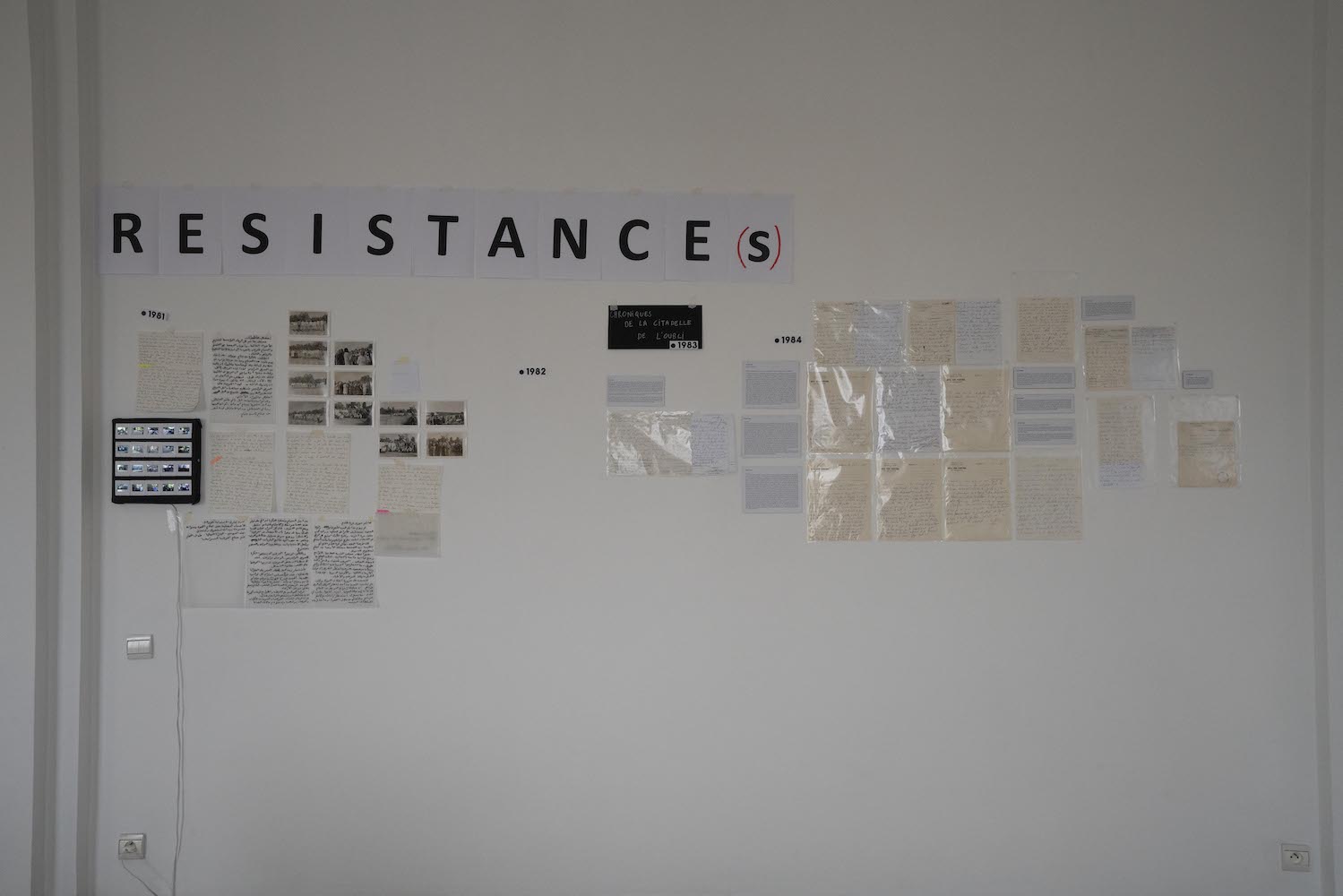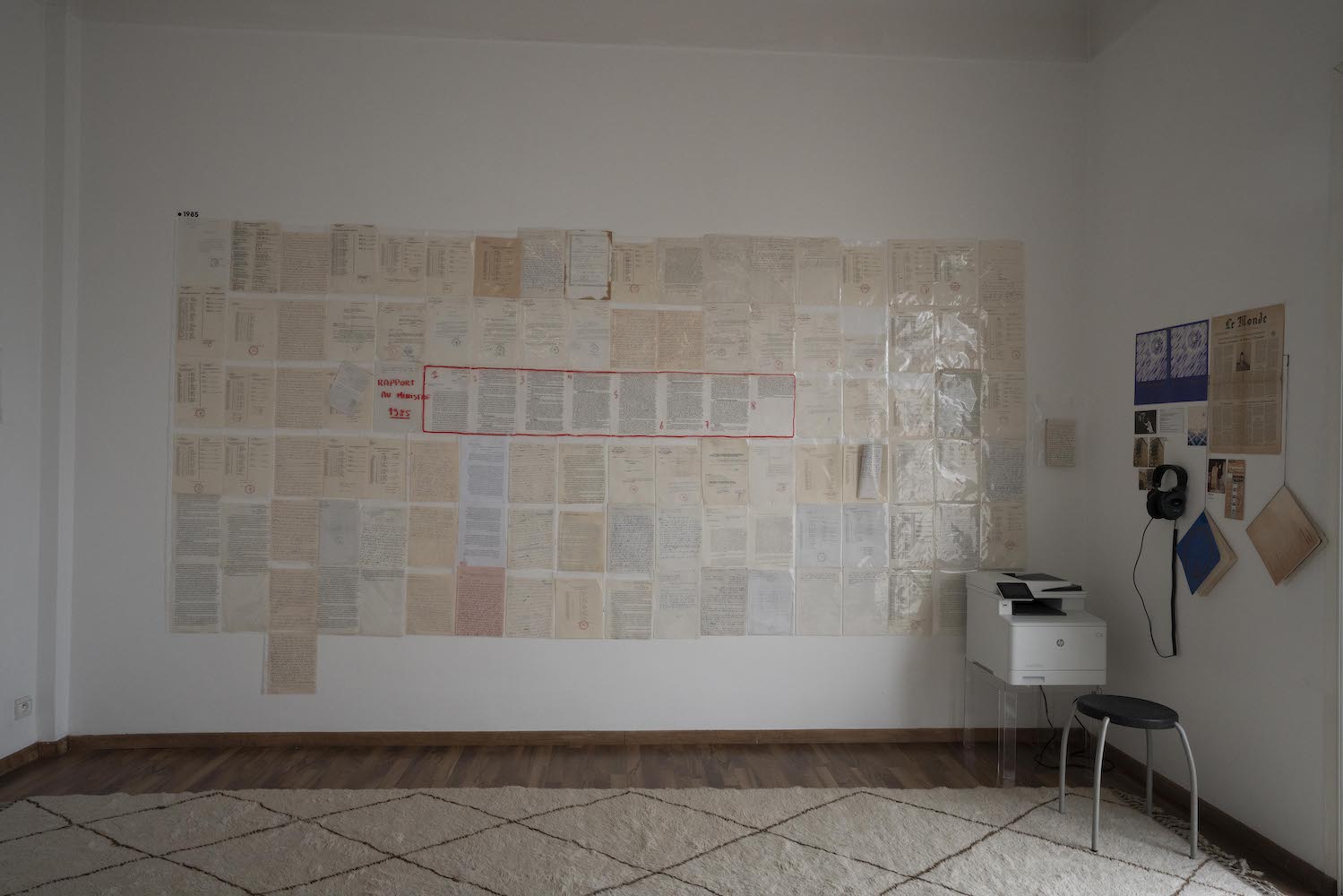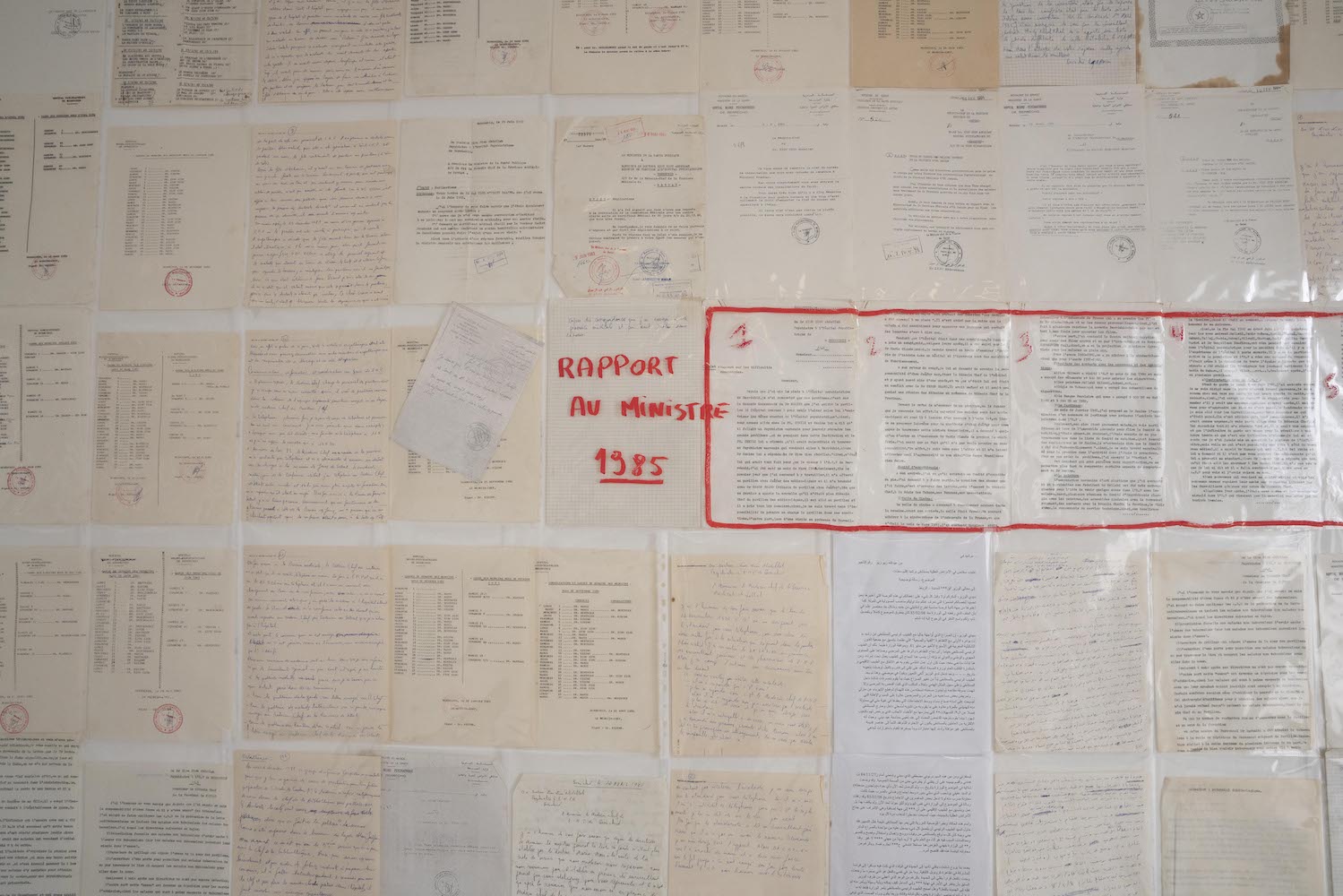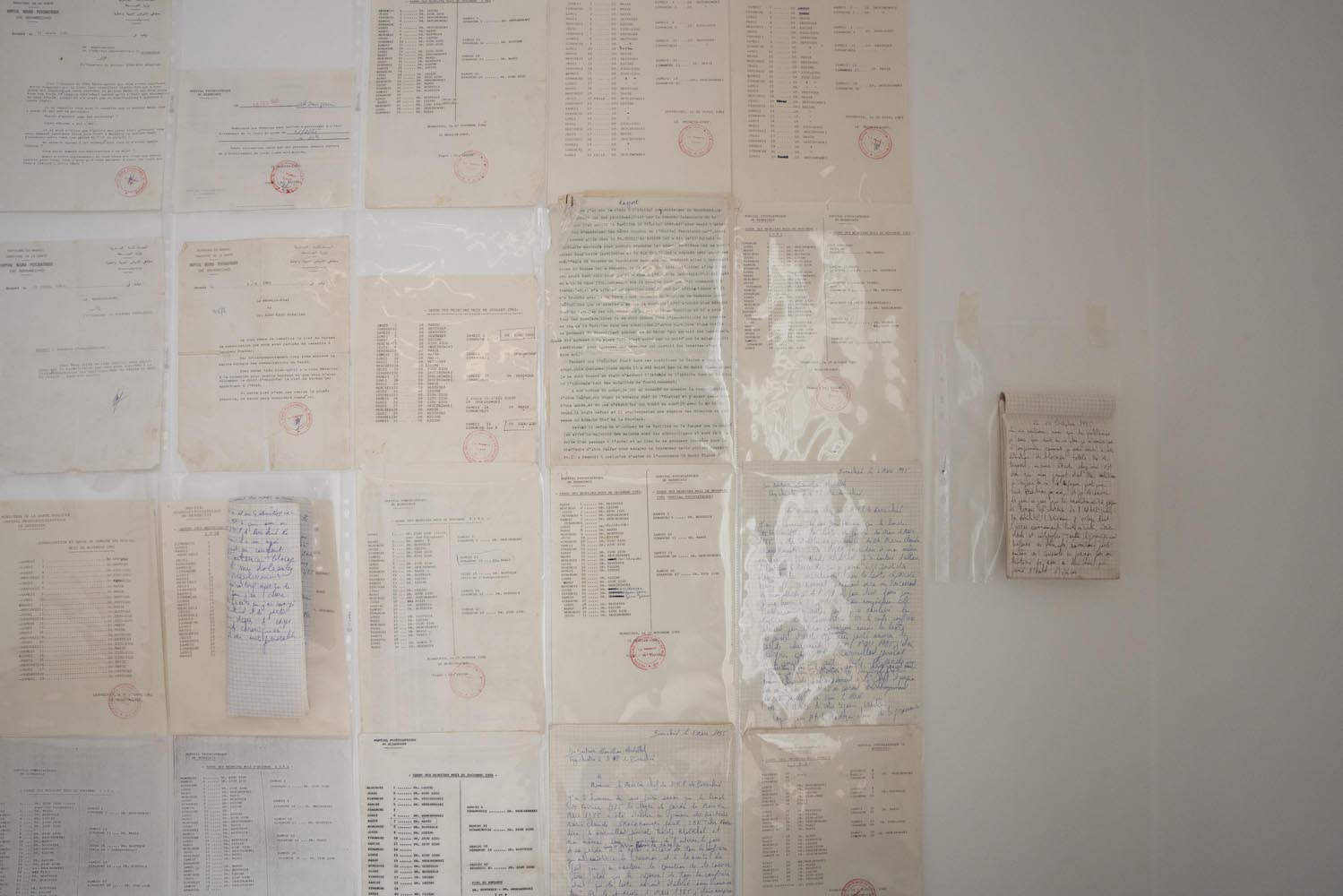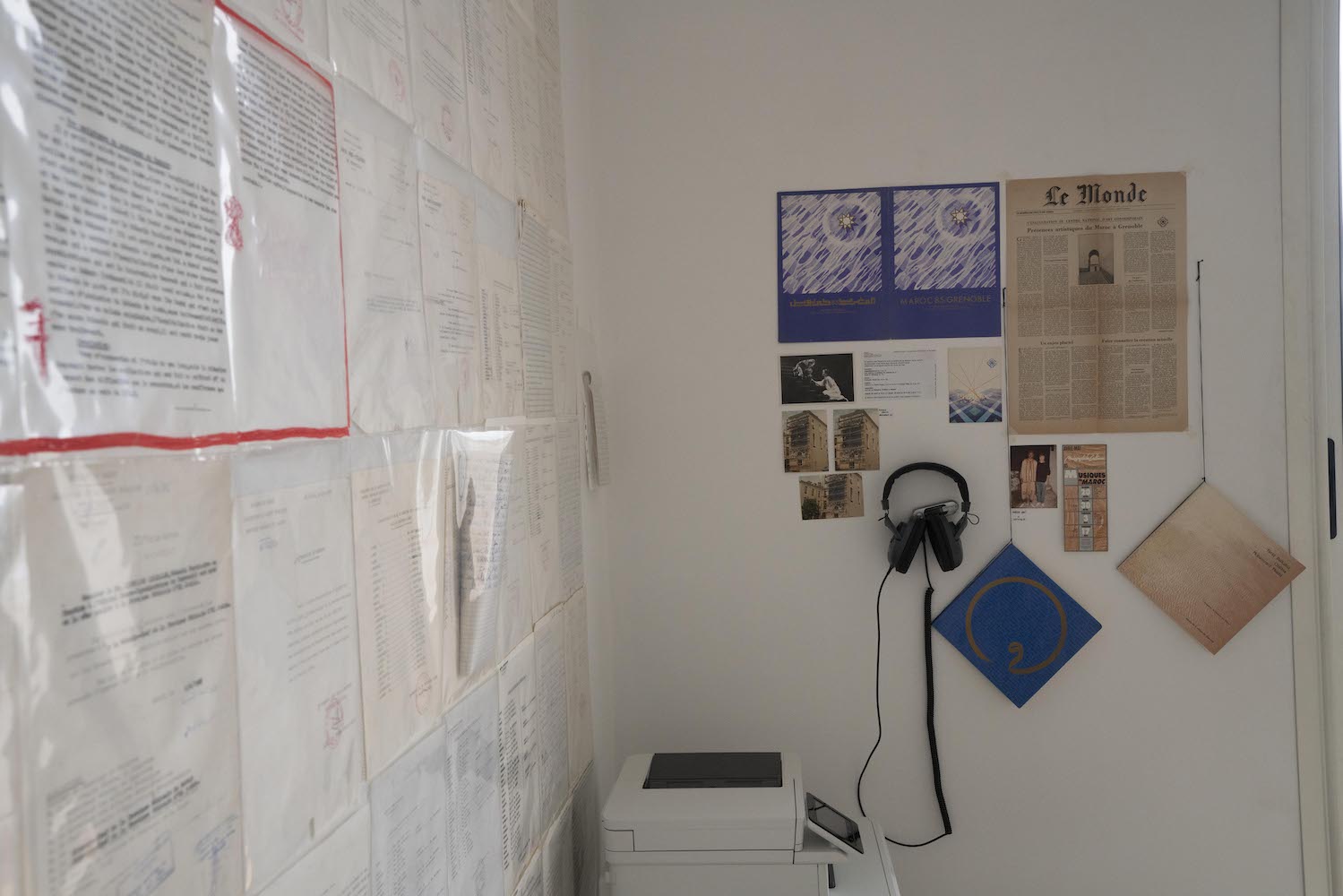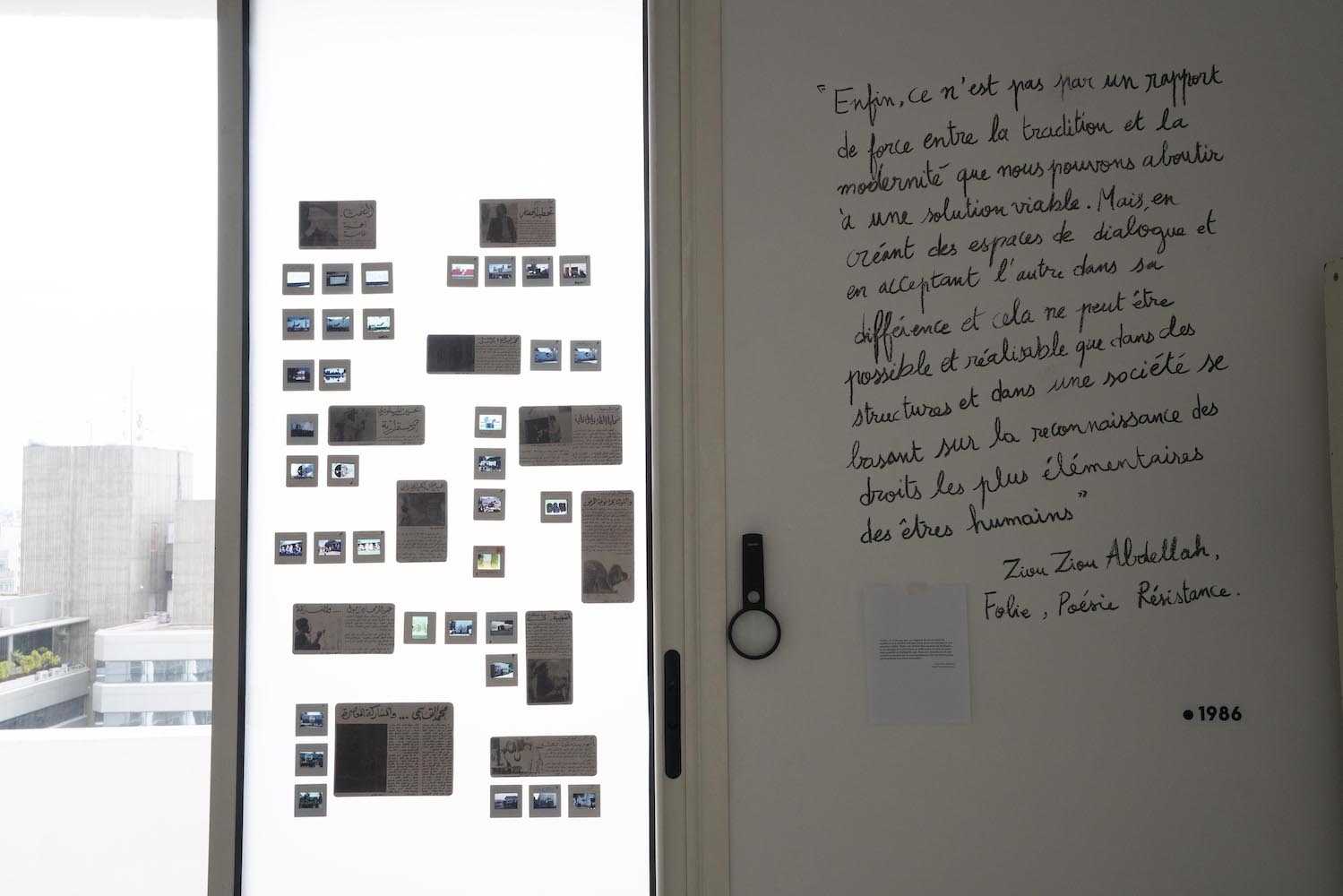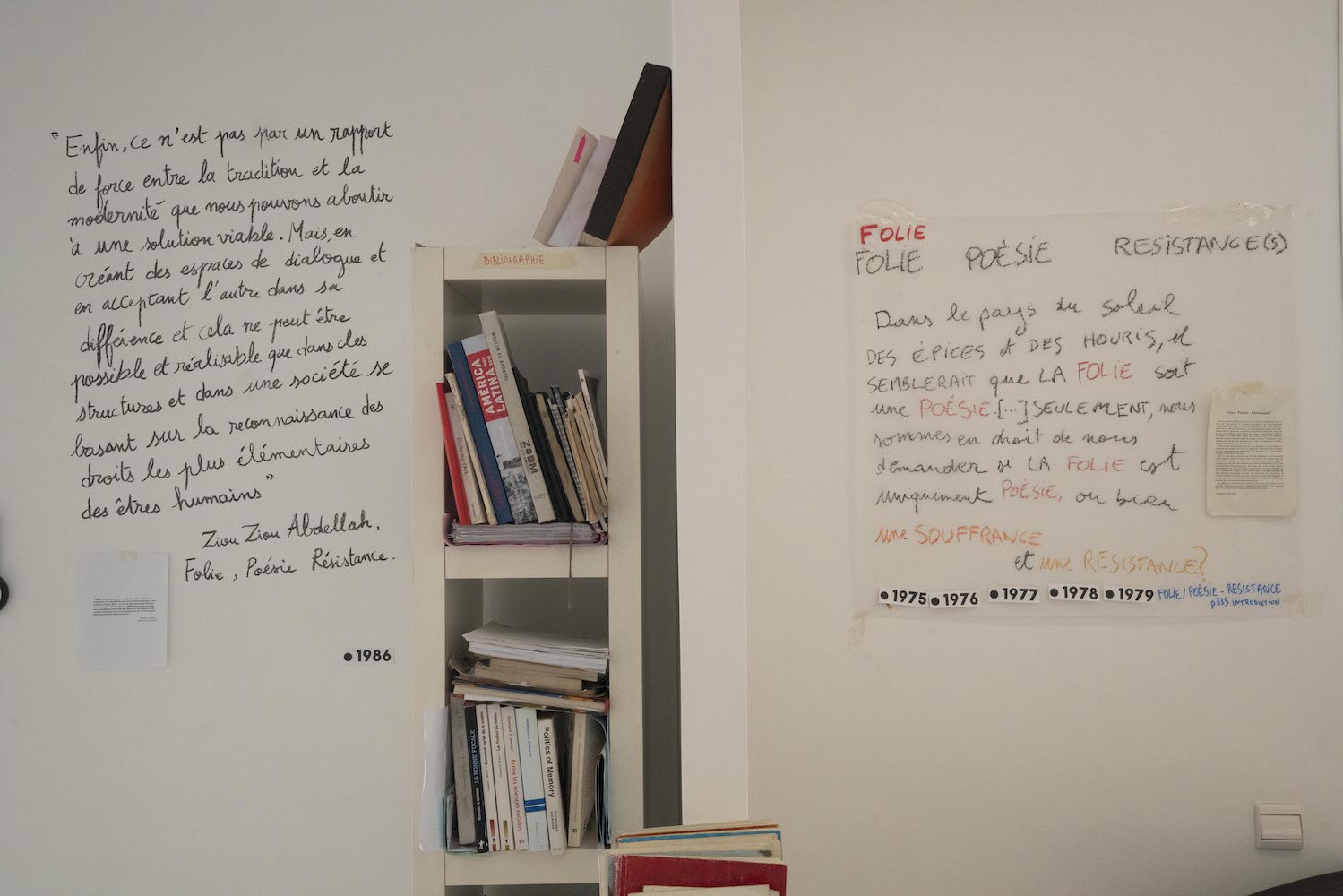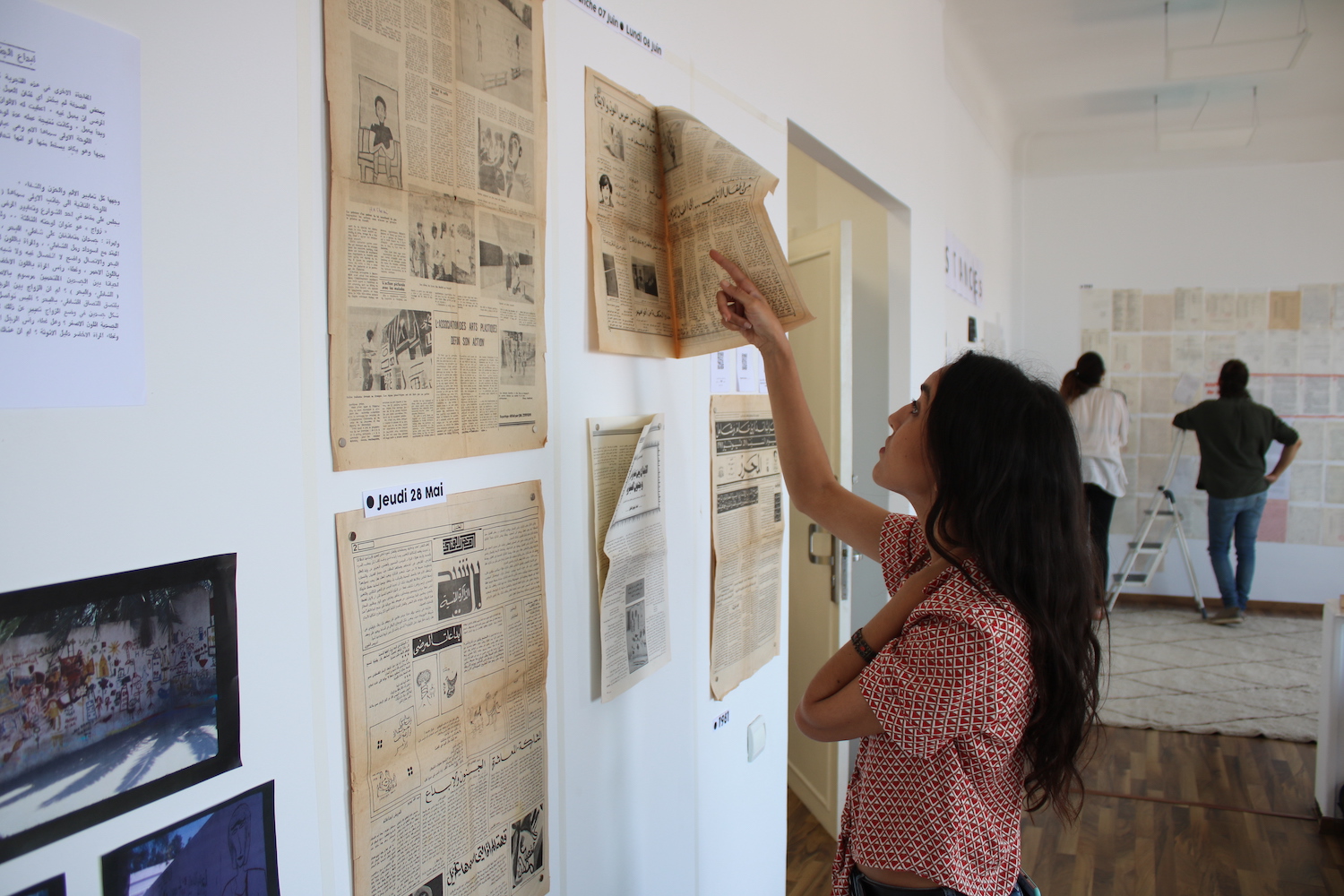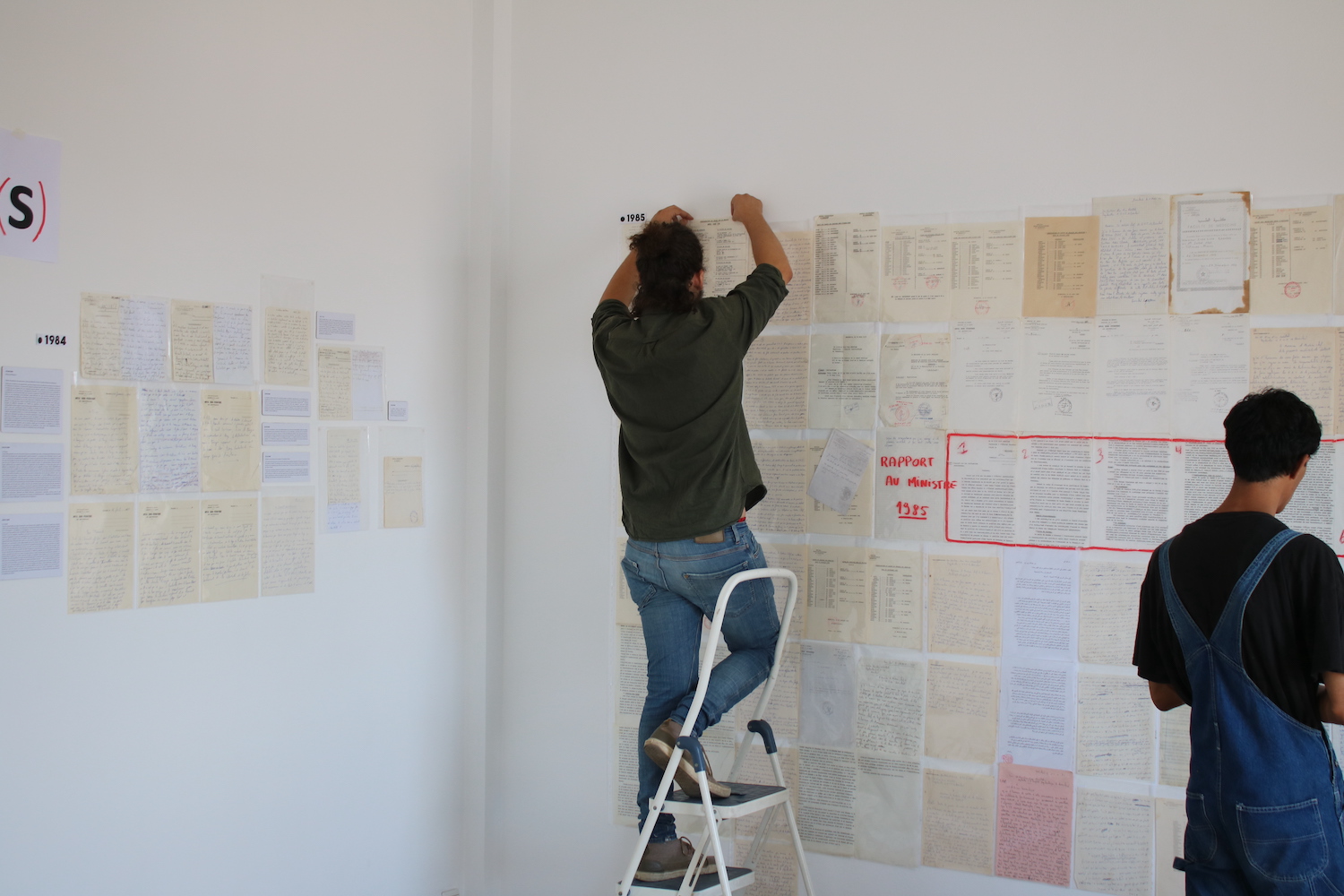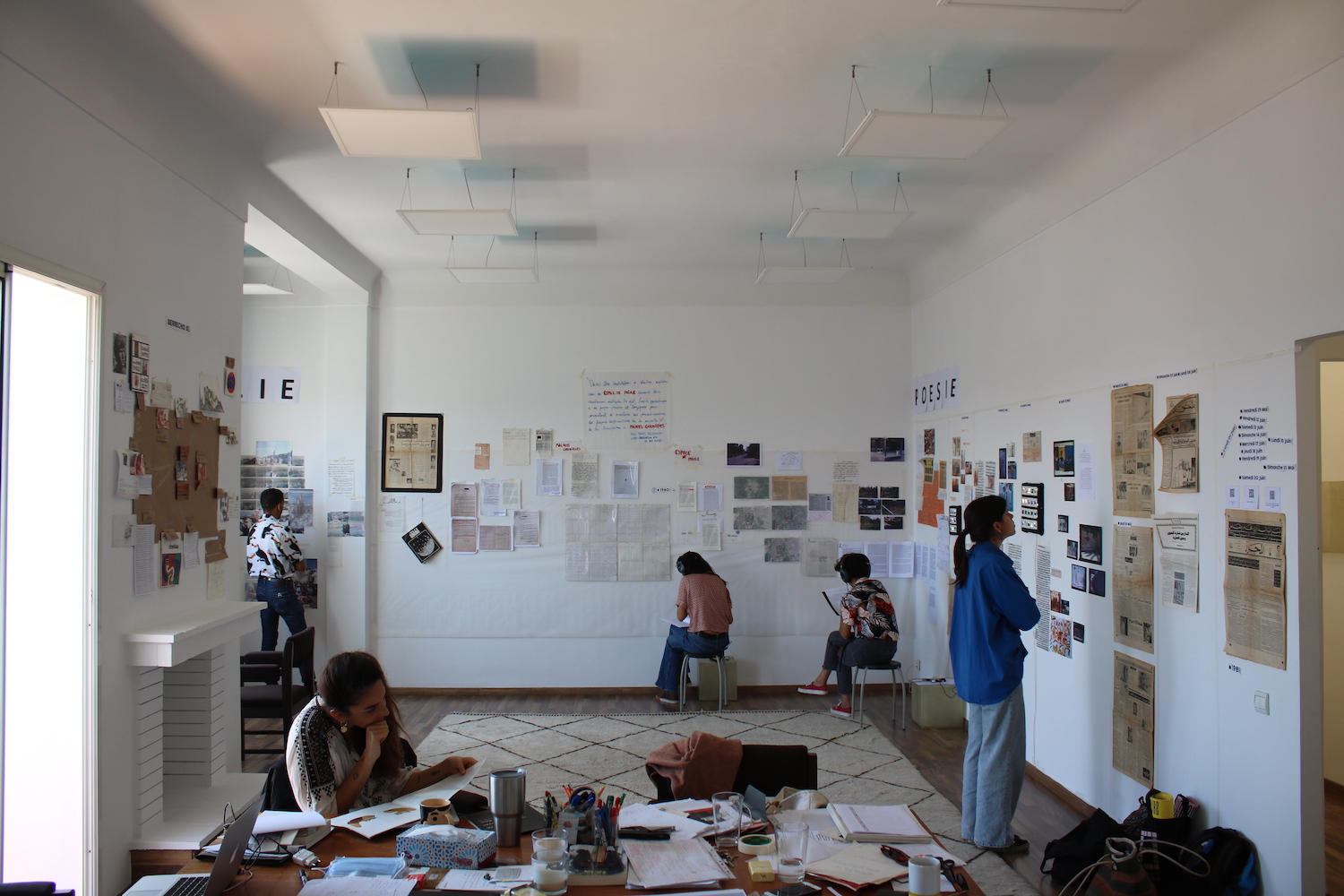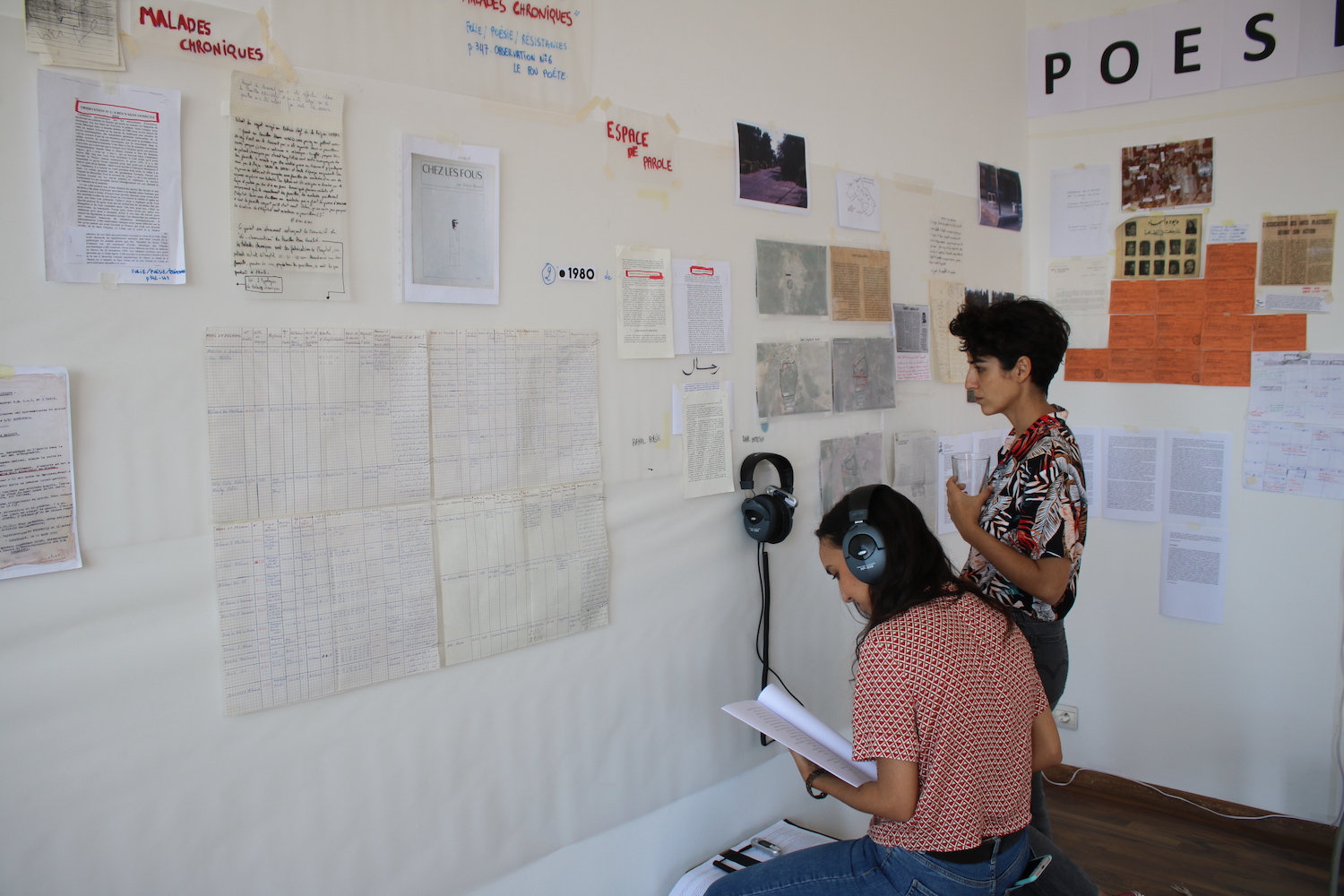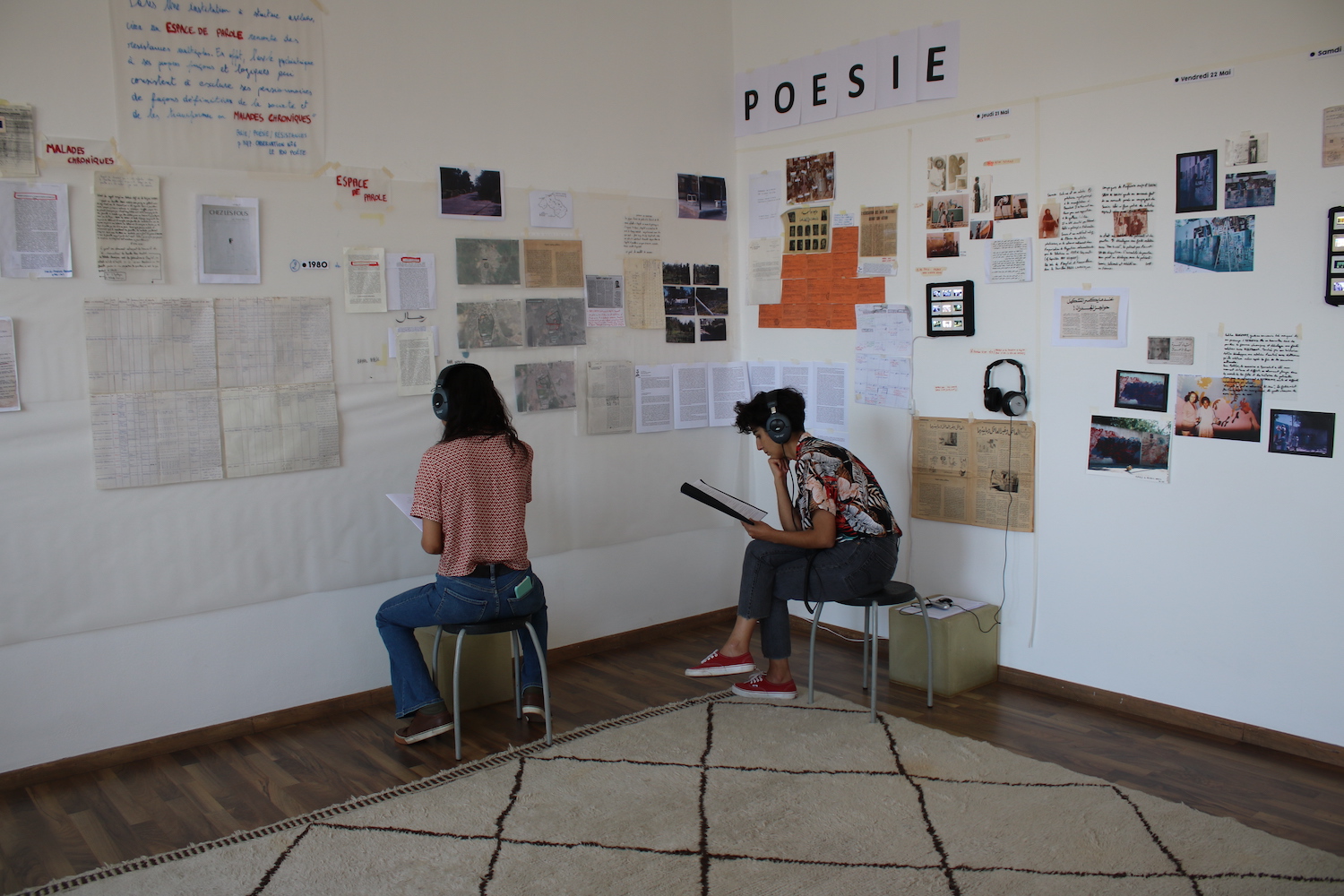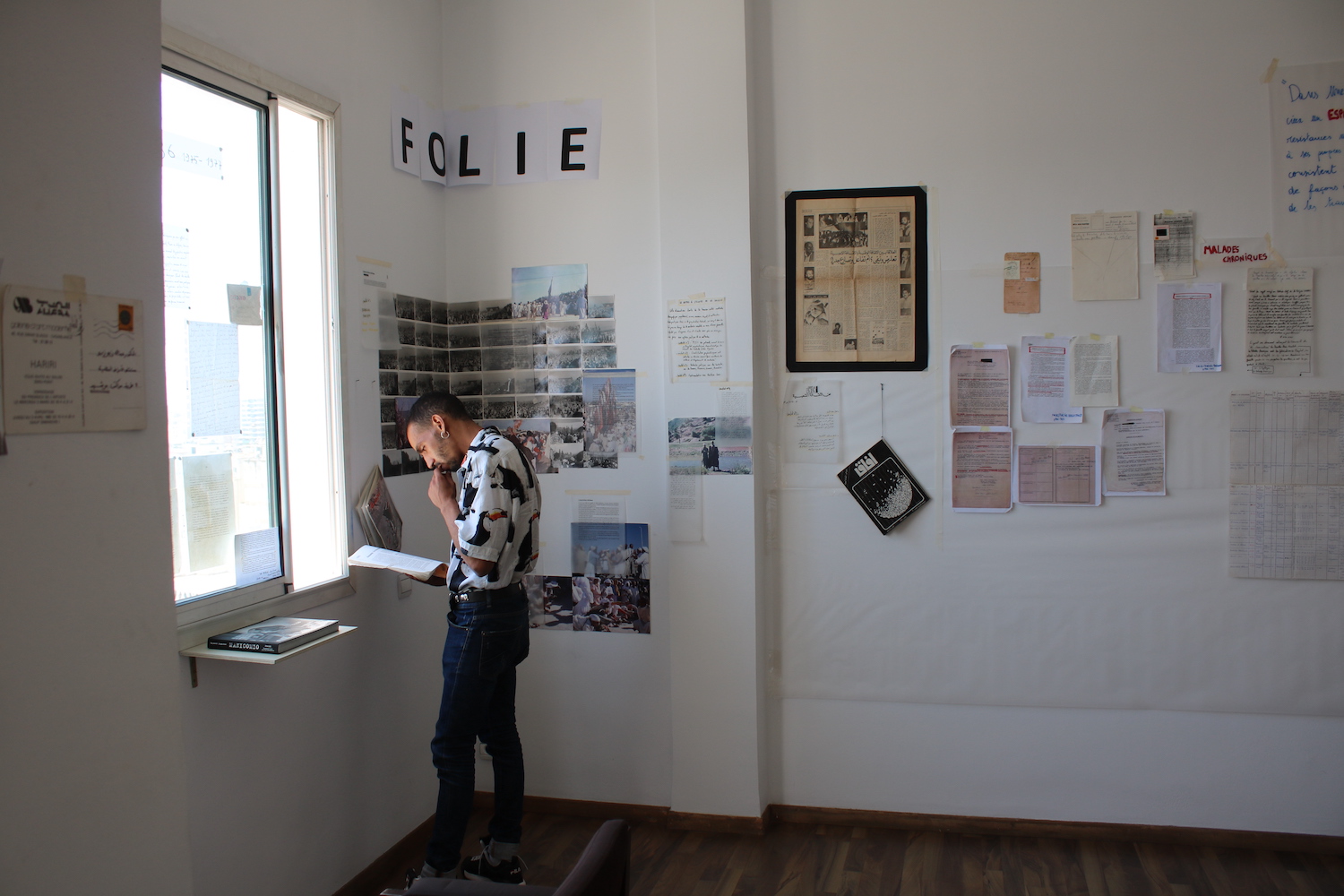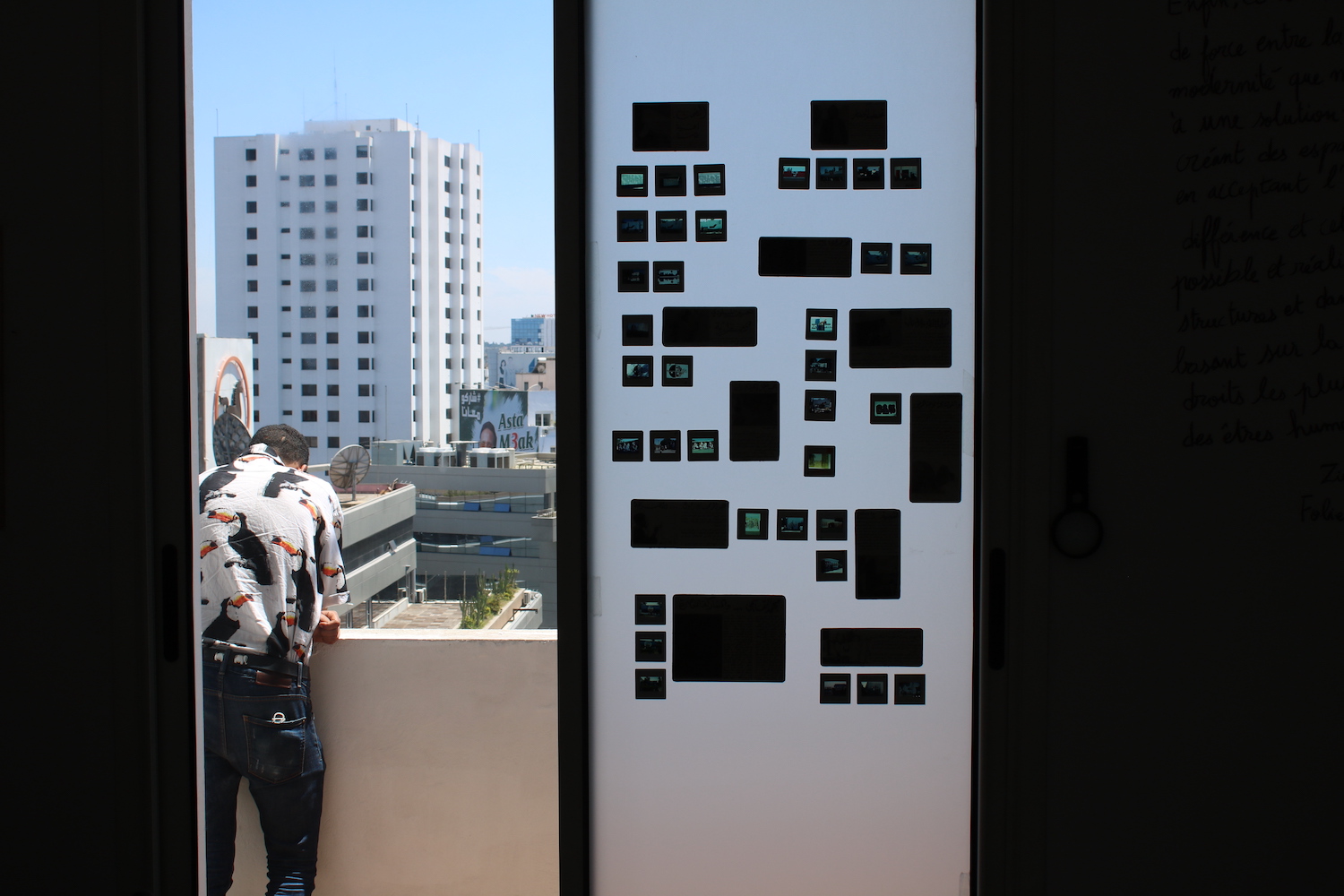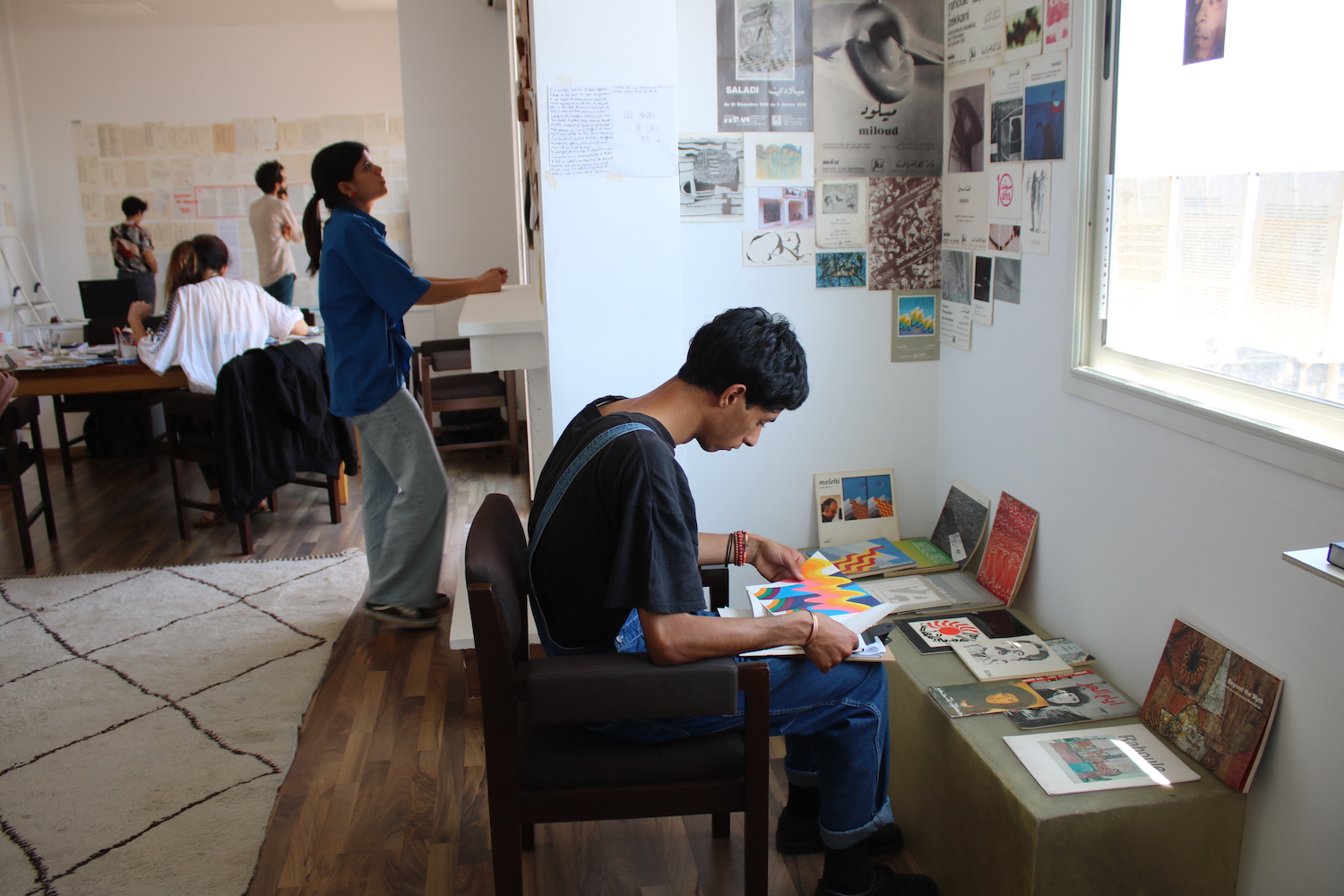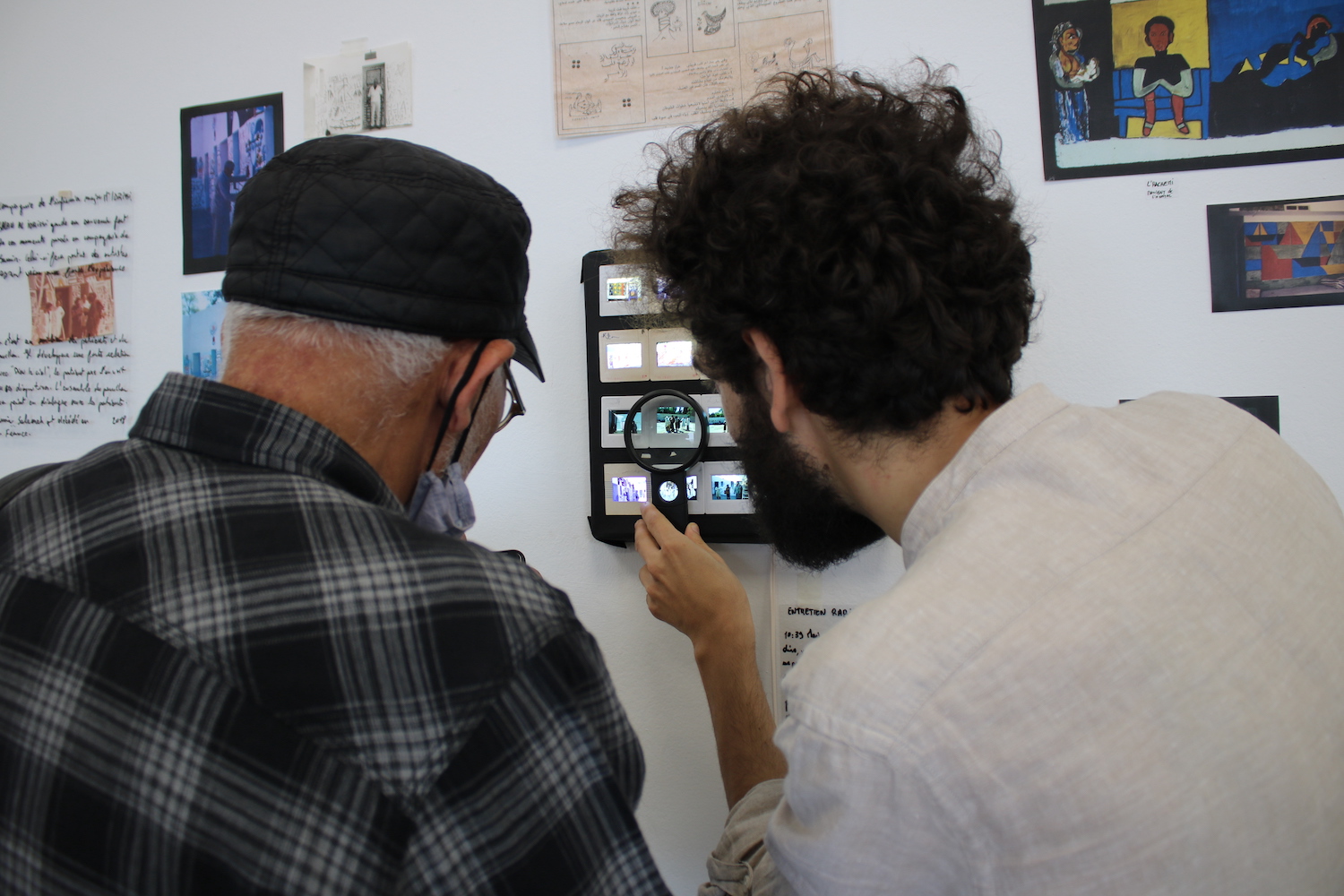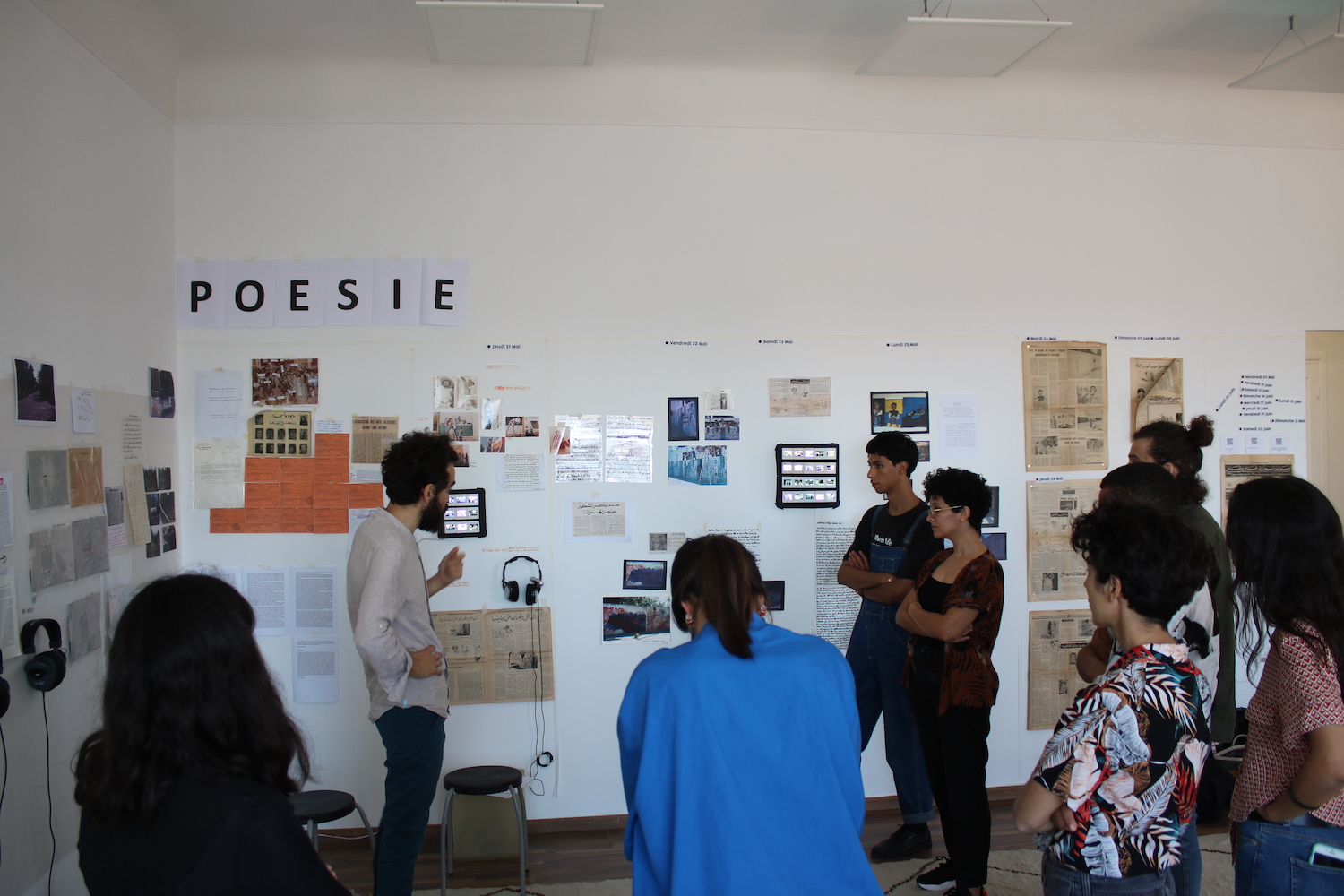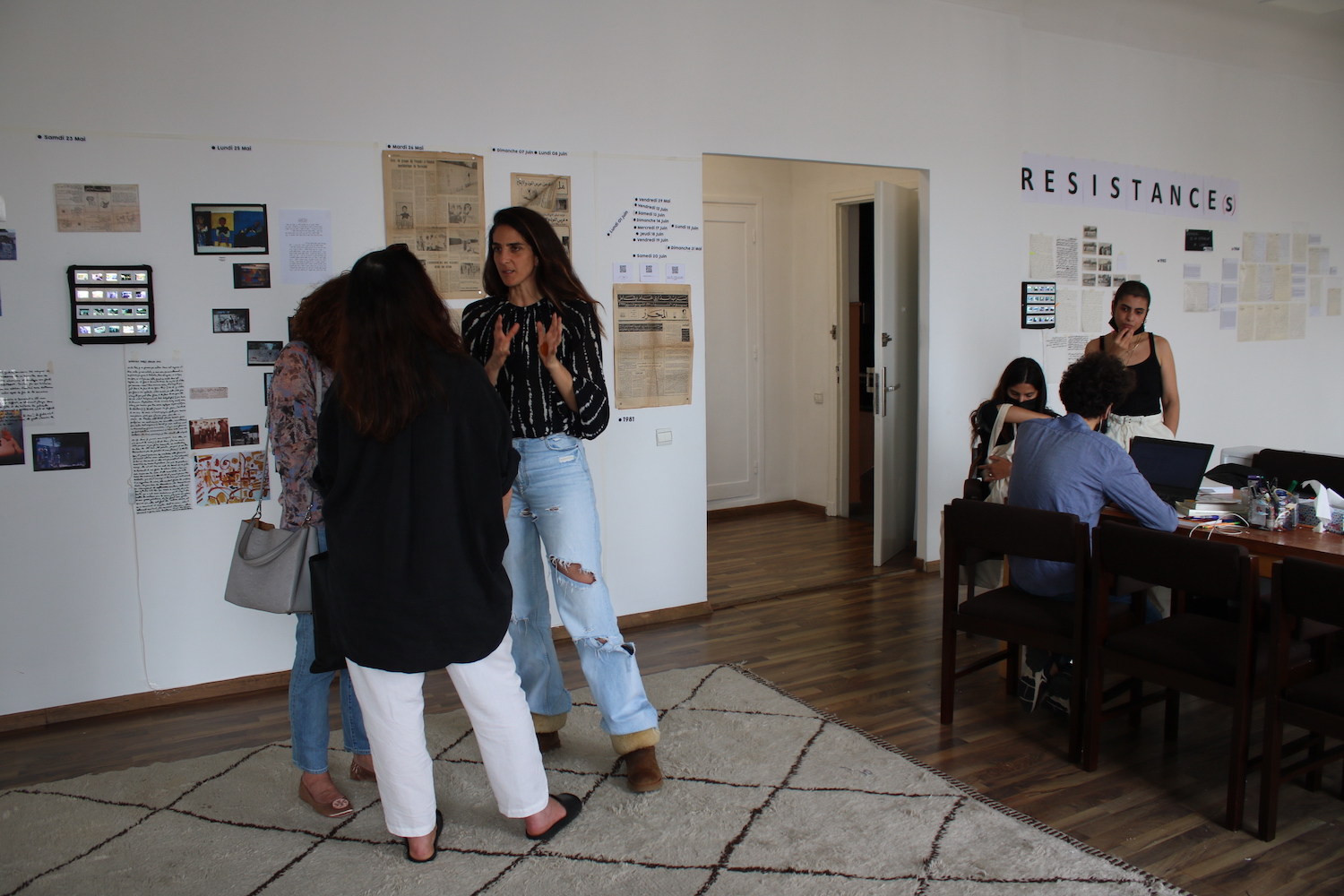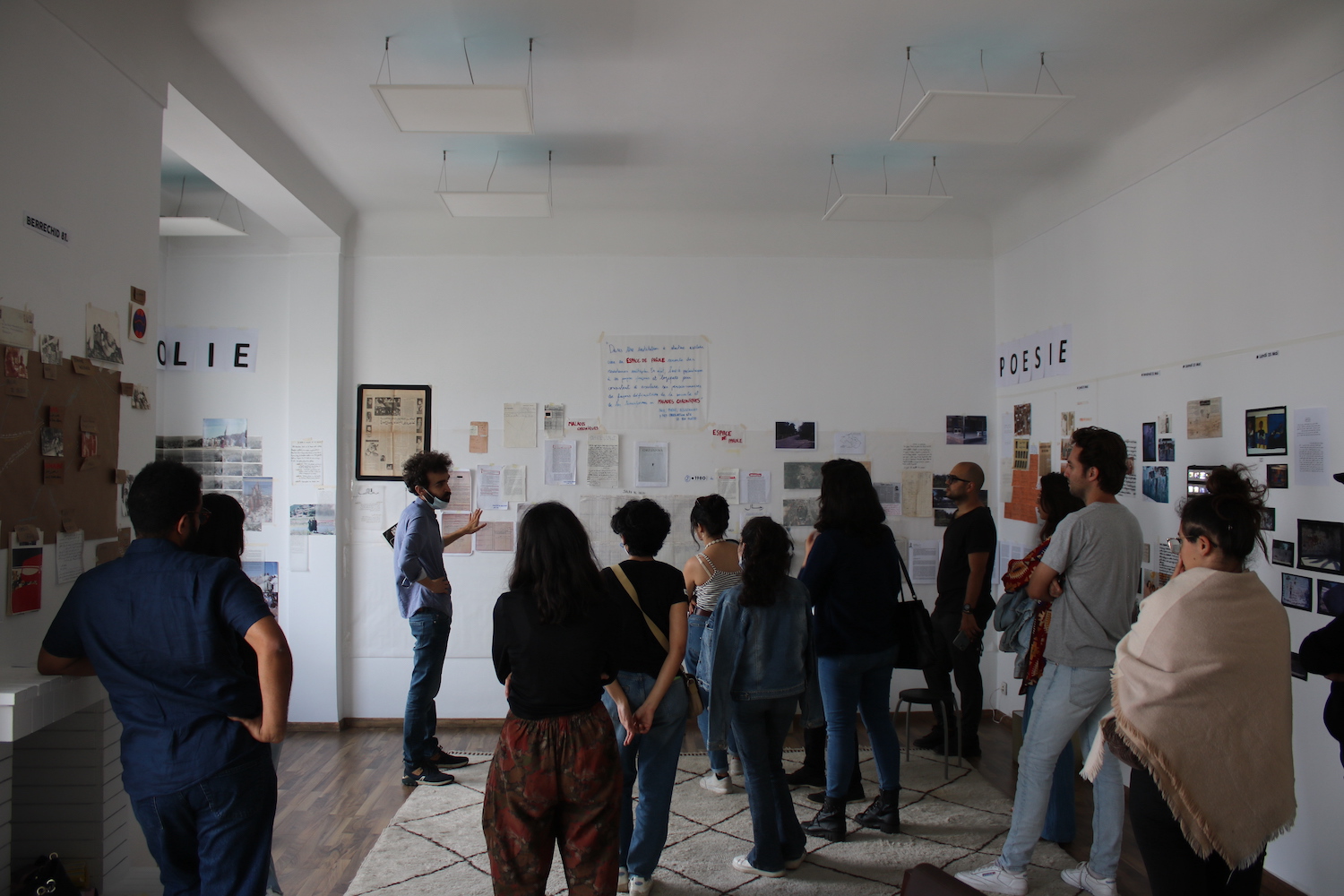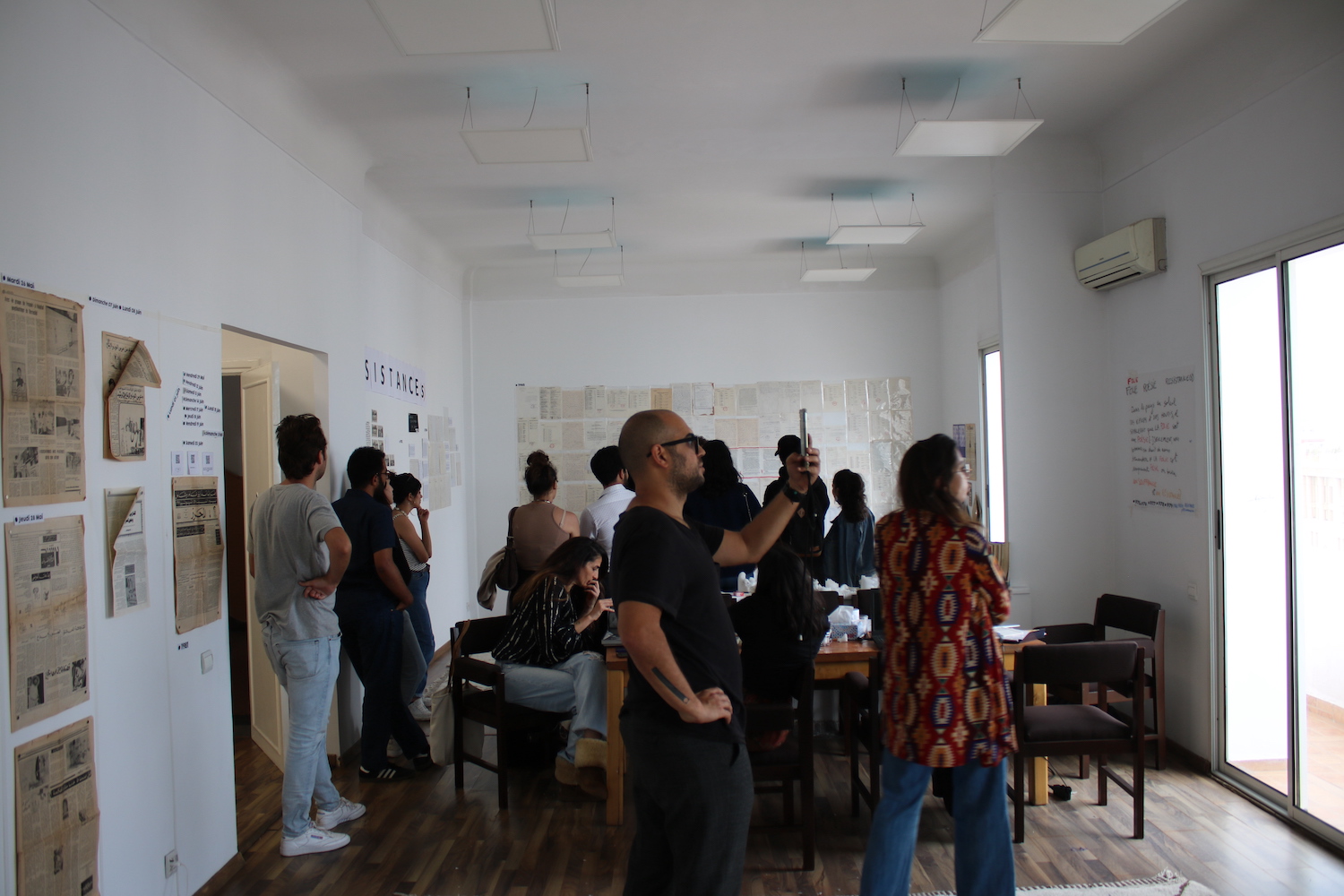 Online Studio
Tuesday, 1 June 2021
Presentation by Abdeslam Ziou Ziou on the outcome of his six-month research residency followed by a discussion with the curators, fellows and partners of the School of Casablanca. Moderated by Salma Lahlou. The presentation in French is followed by a discussion in English.
Closed Studio
Friday, 4 June 2021 / Psychiatry
Looking at the 'Pavilion 36' experience in light of today's psychiatric practices
Aziza Ziou Ziou (clinical psychologist) talks to psychiatrists Fatiha Boulayoun, Saloua Kijri, Nadia Mouchtaq and Dr. Ziou Ziou as well as psychologists and founders of the Ruban d'Espoir association, Rim Difoullous and Lydia-Hanaa Faris.
The discussion focuses on the current methods of psychiatric care, echoing experiences in different institutions in Morocco, at the Arrazi Hospital (Salé), Pavillon 36 (Casablanca) and the psychiatric hospital in Berrechid.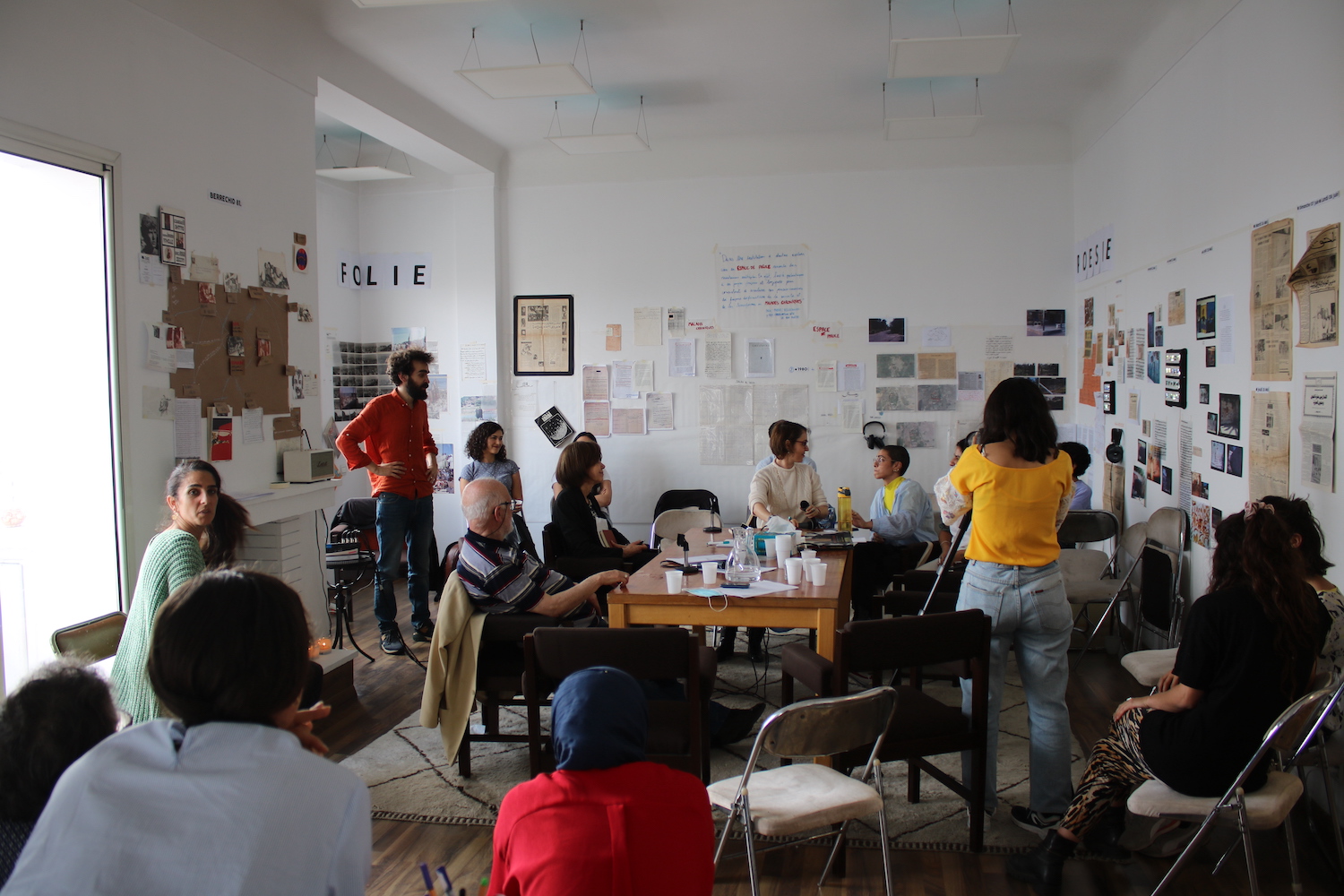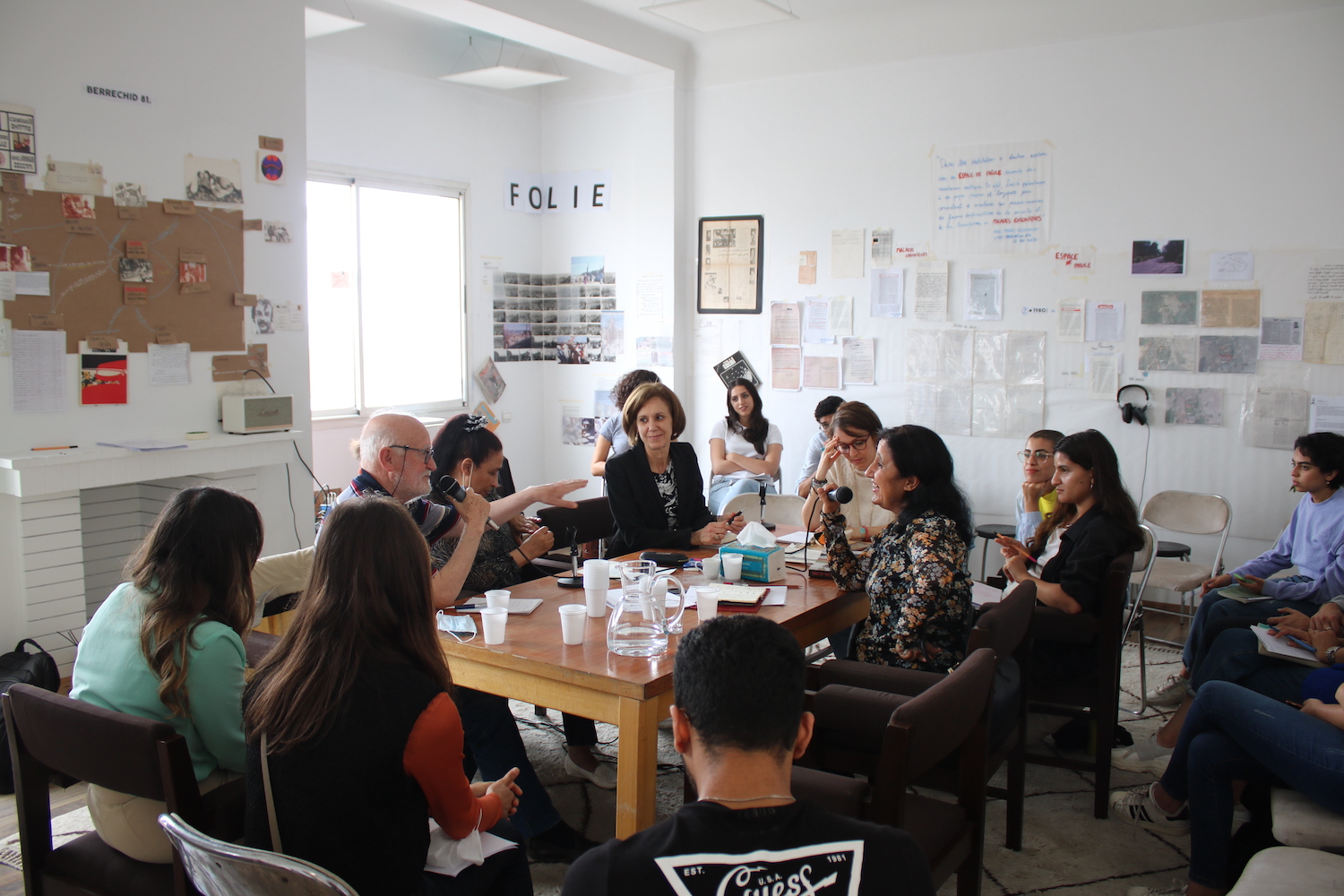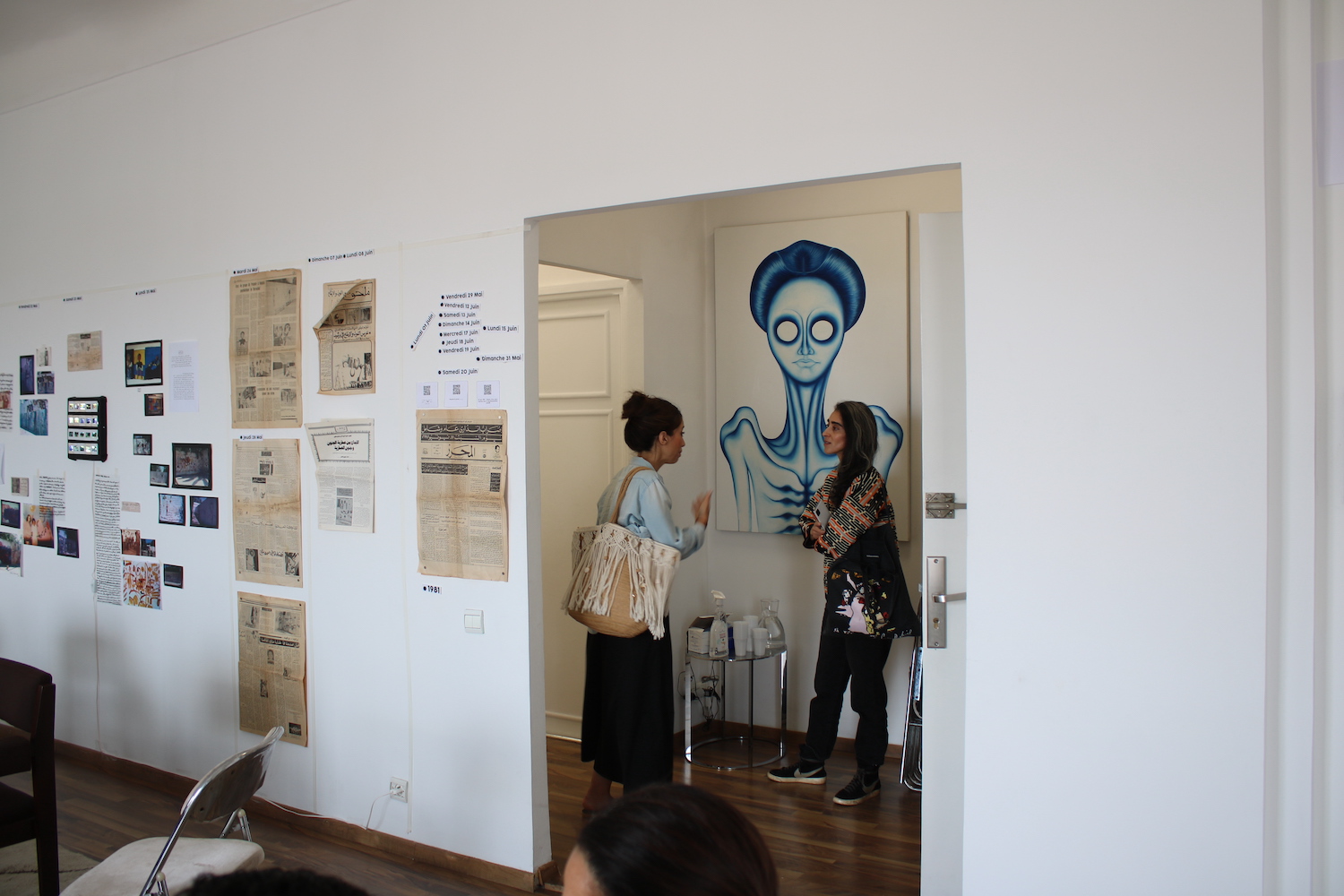 Satursay, 5 June 2021 / Art and Psychiatry
A (great?) time
Lunch – conversation led by Imane Zoubai (artist) with Dr Ziou Ziou, the artists who participated in the Berrechid experience, including Abdelkabir Rabi and Abdellah Harriri, and the new artistic guard. This open discussion made it possible to reconstruct this experience in all its components: the medical experience, through the participation of part of the hospital team; the artistic experience through the participation of the artists; as well as the legacy of these experiences through a dialogue with the new generation of artists who attended this event in large numbers.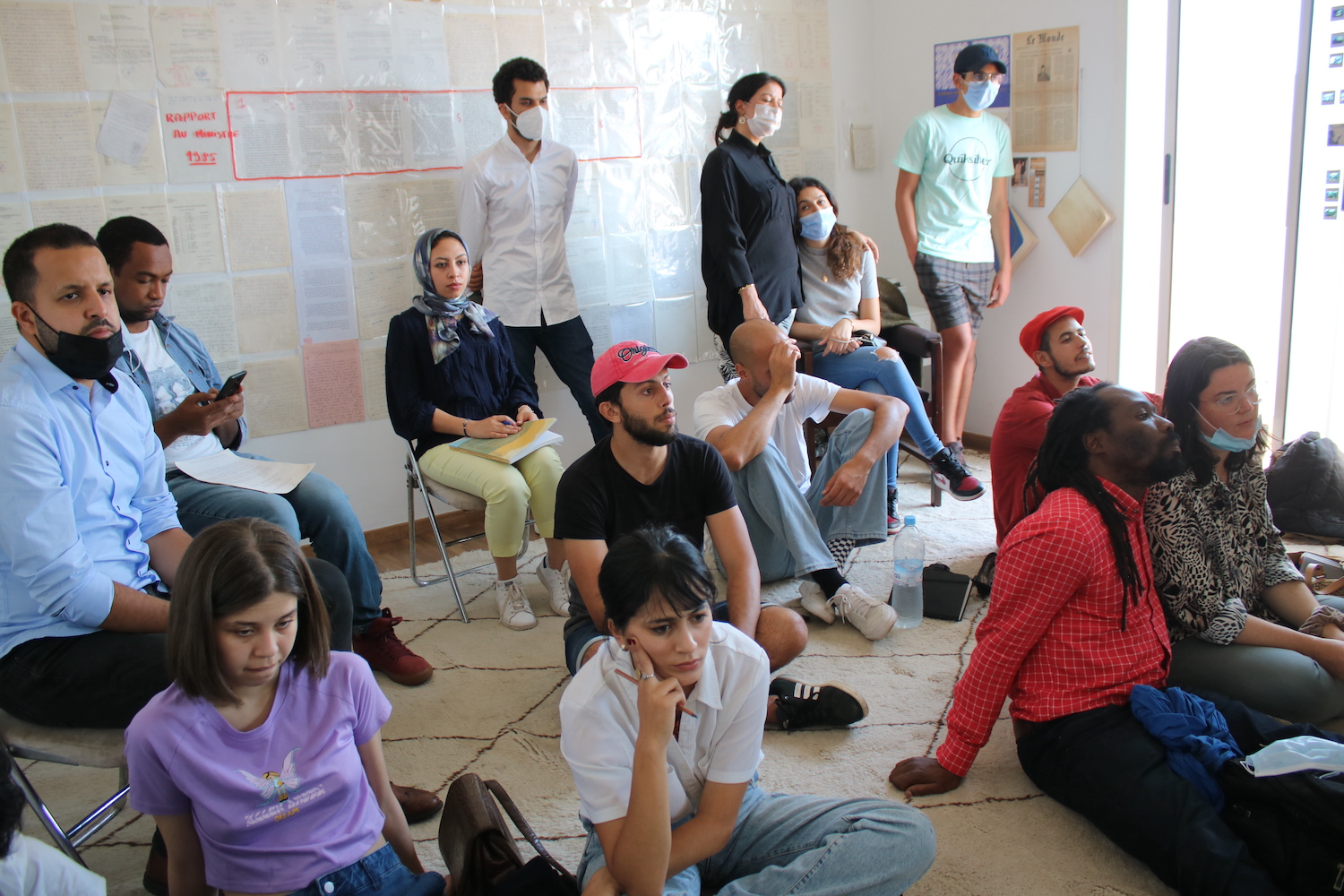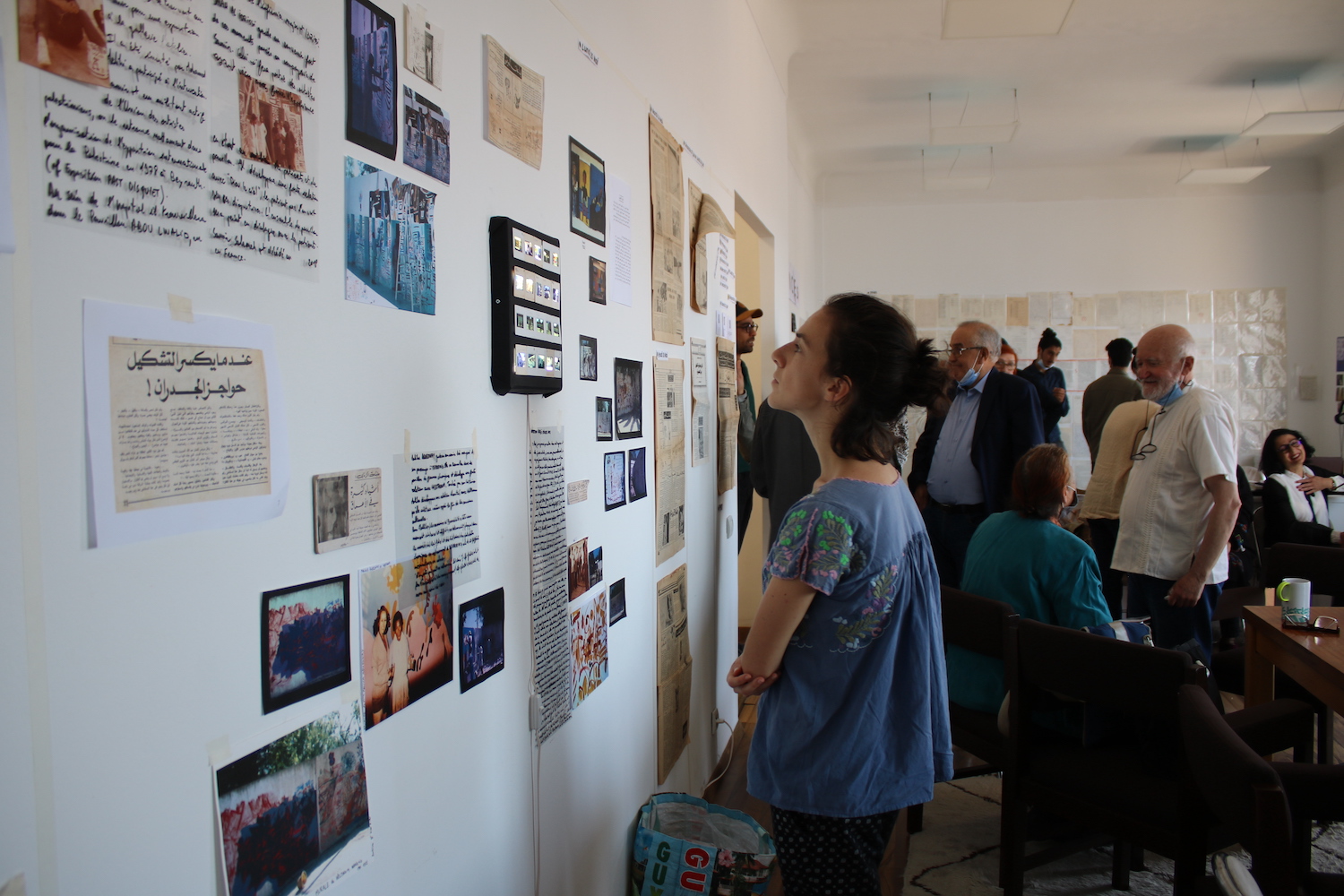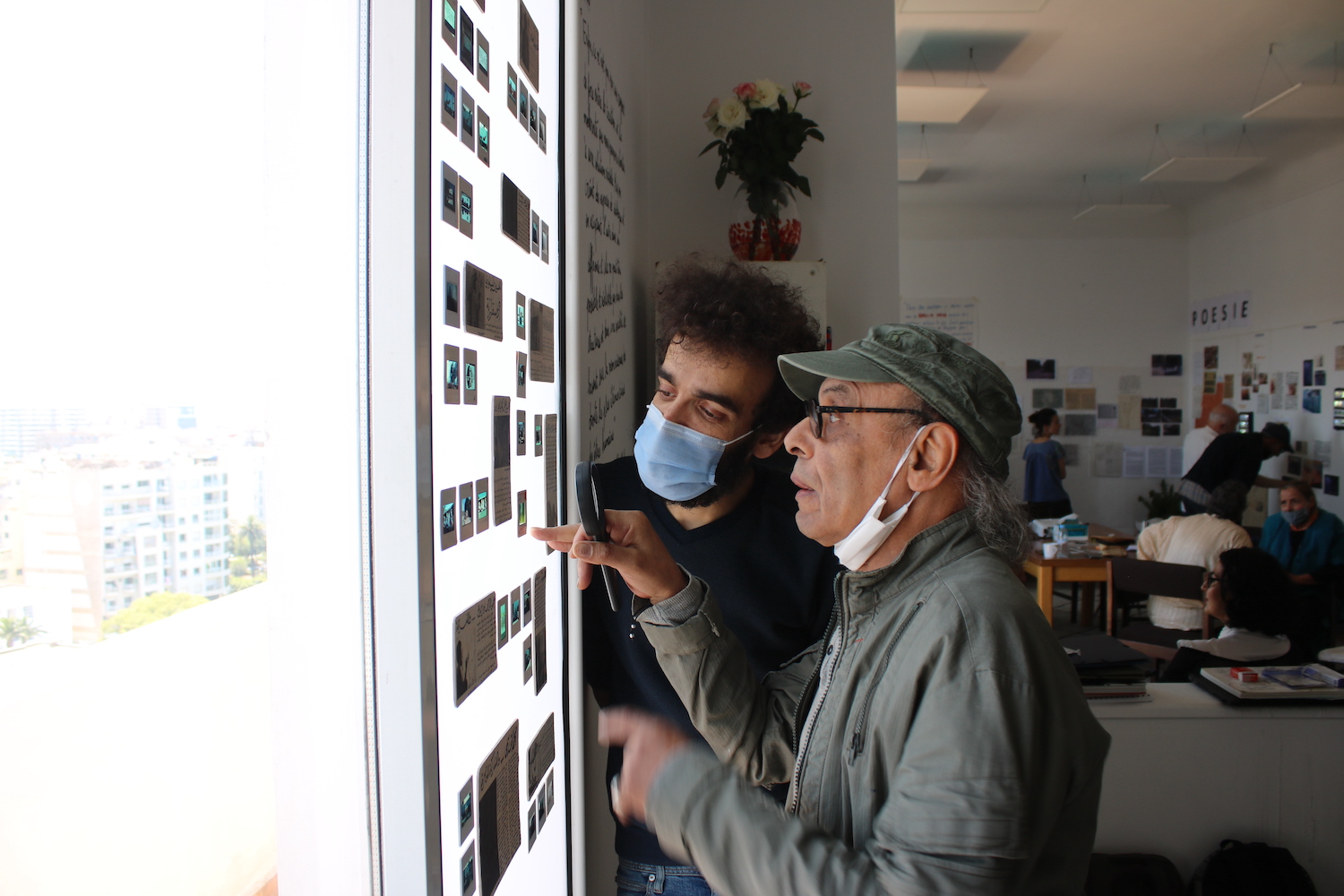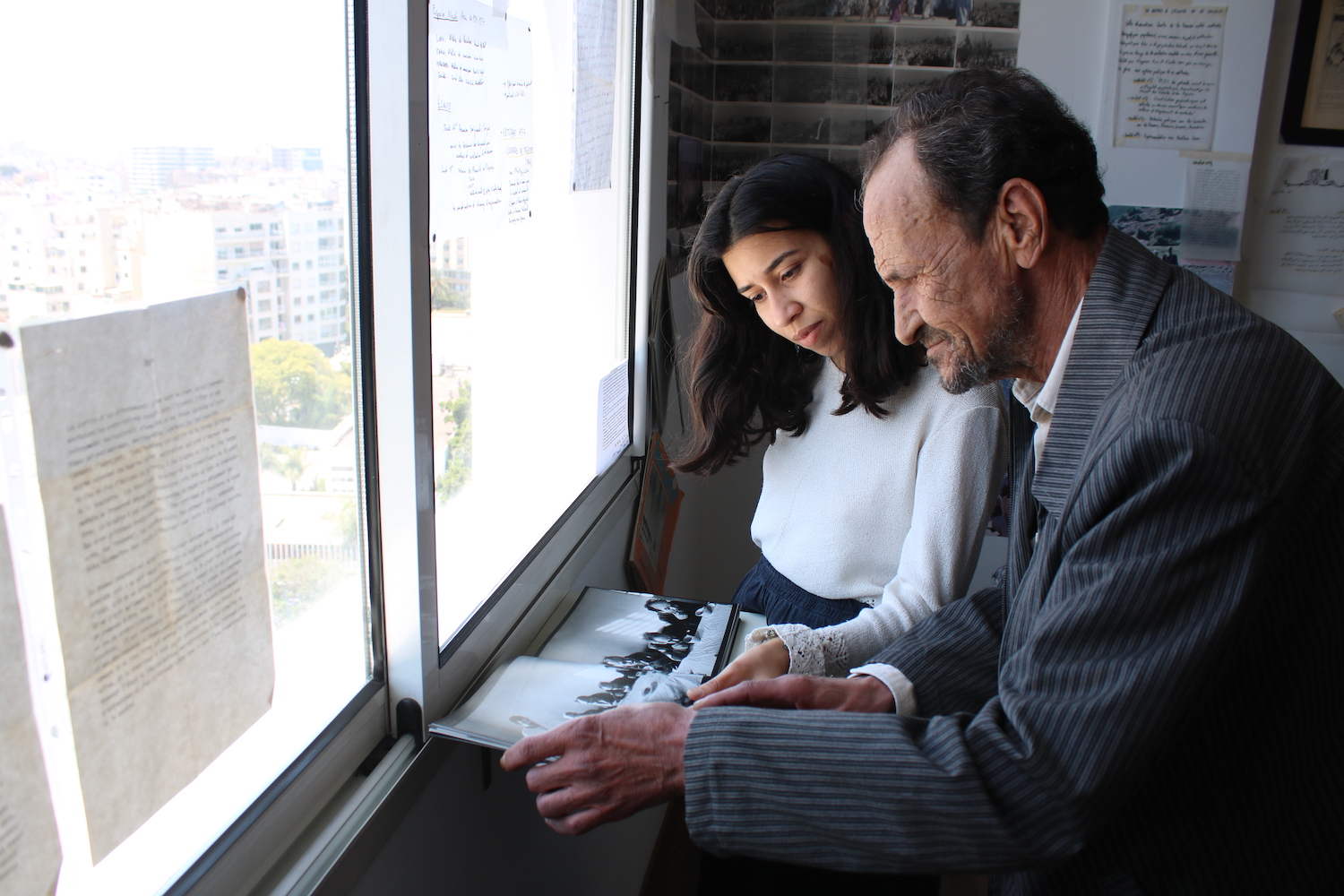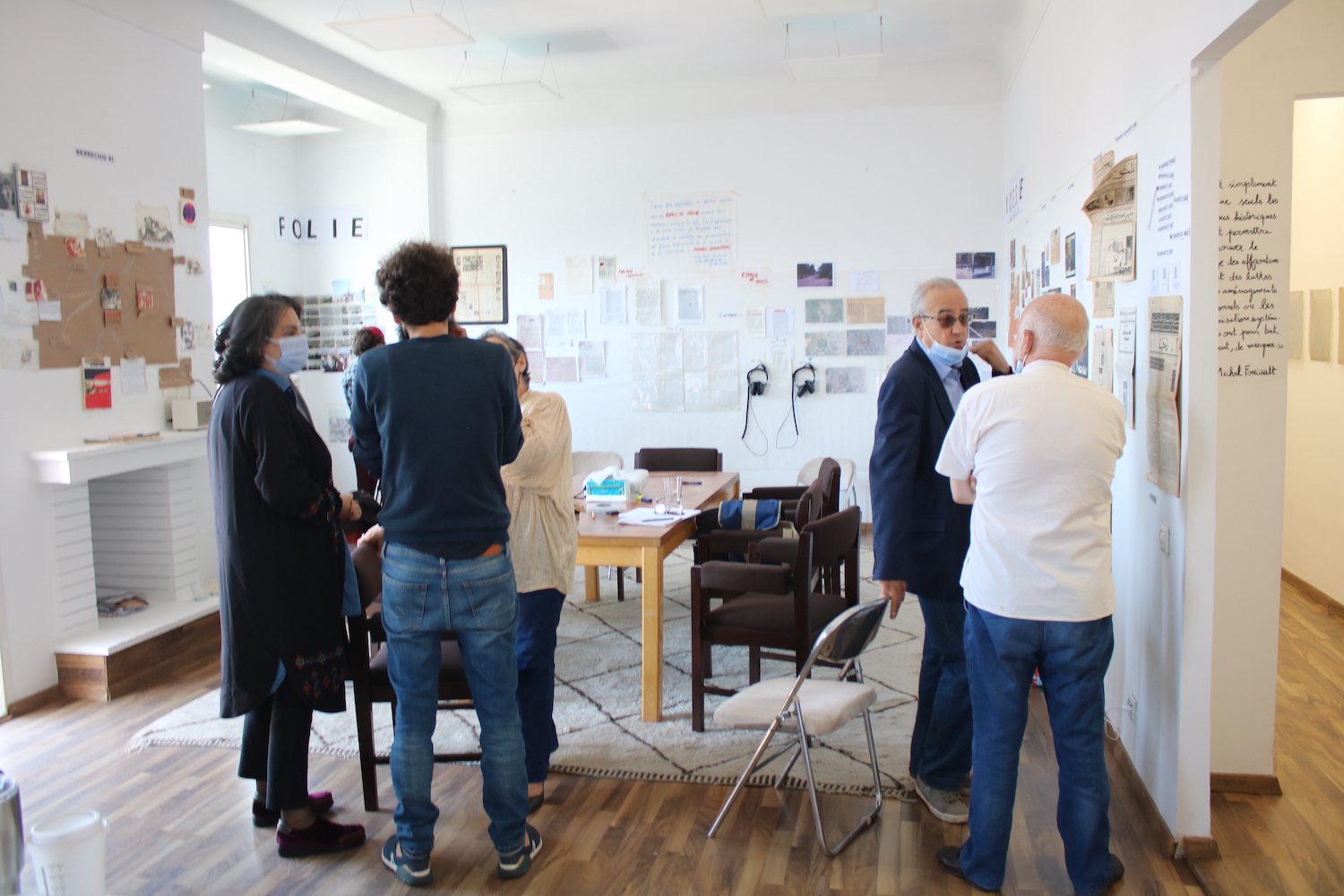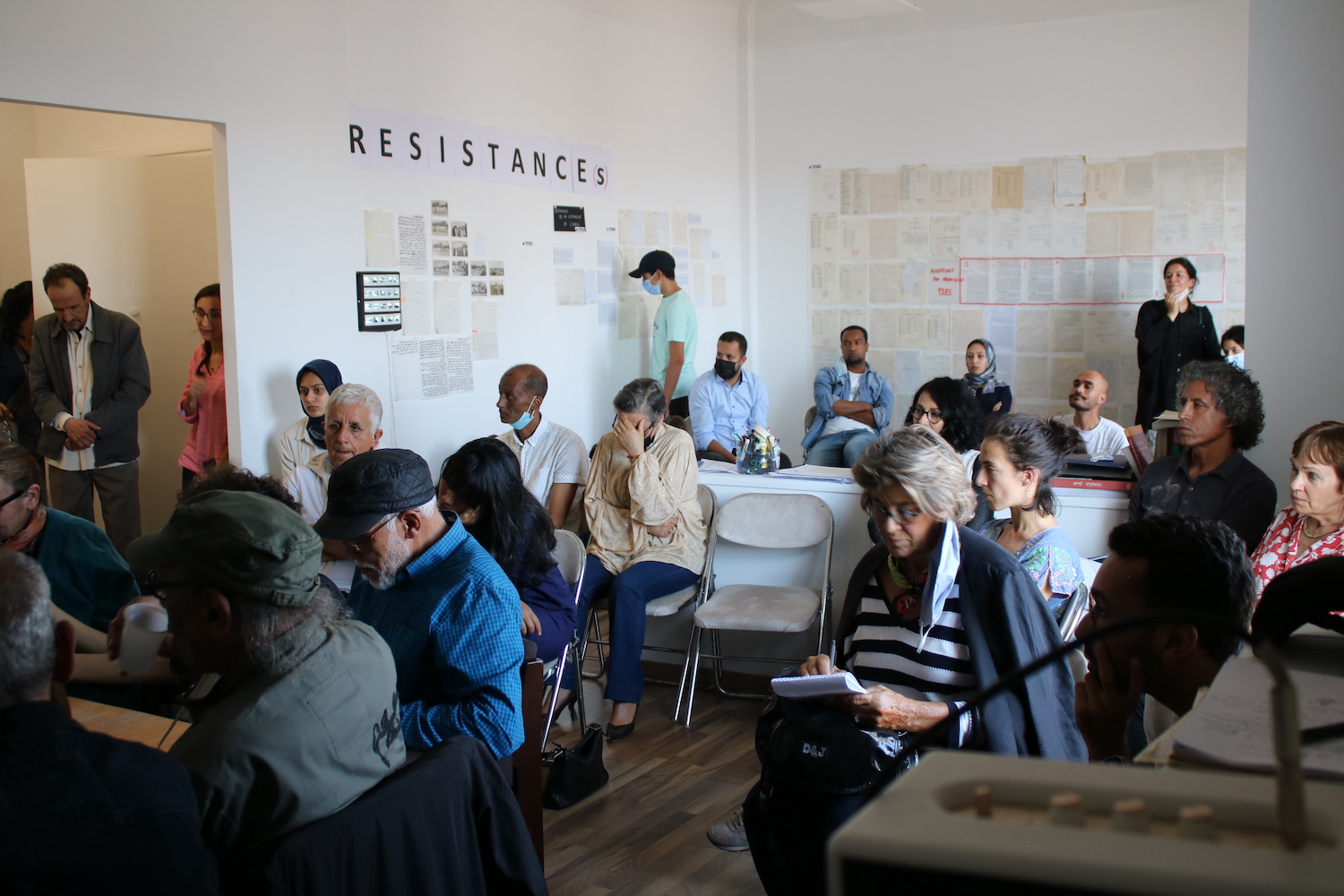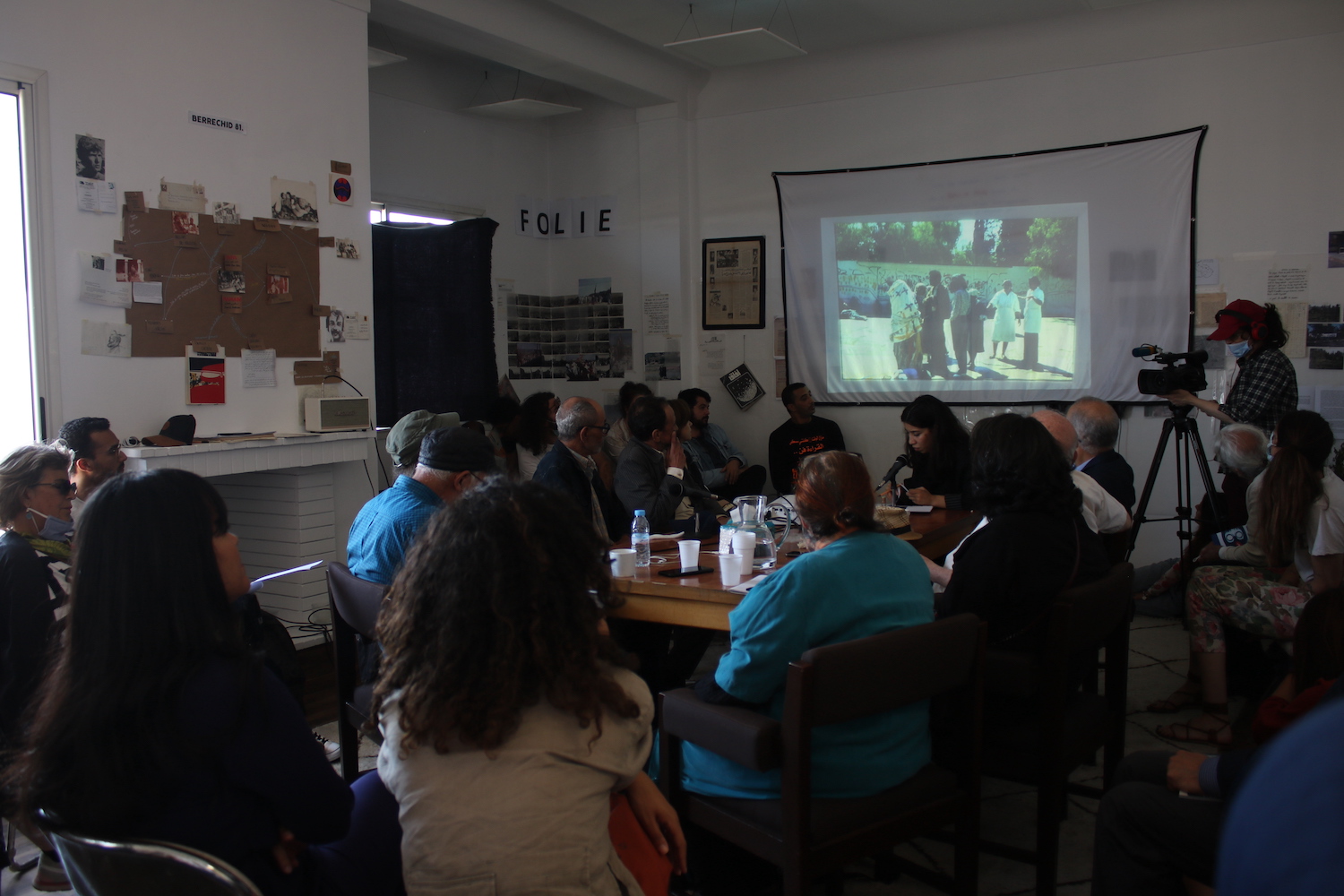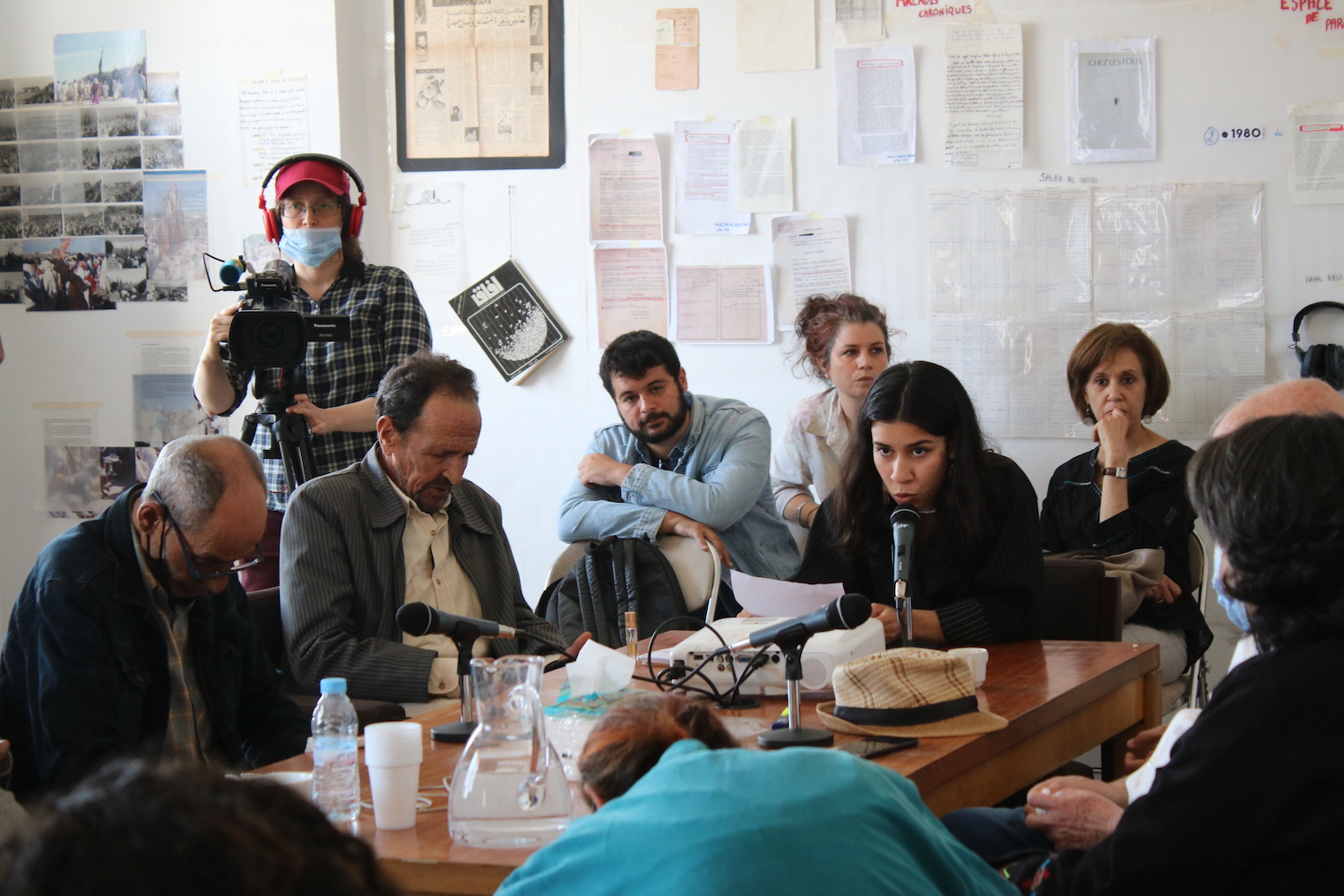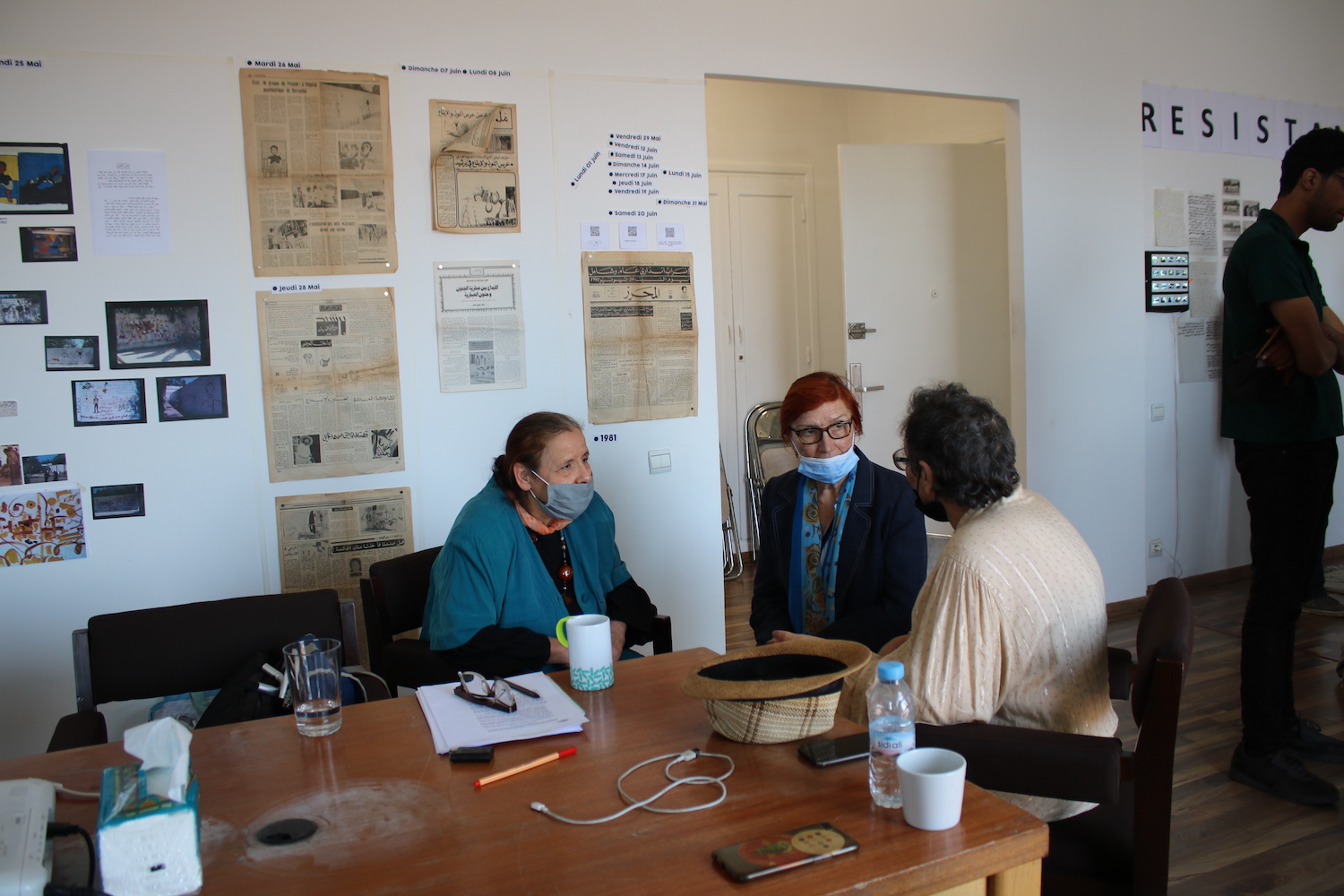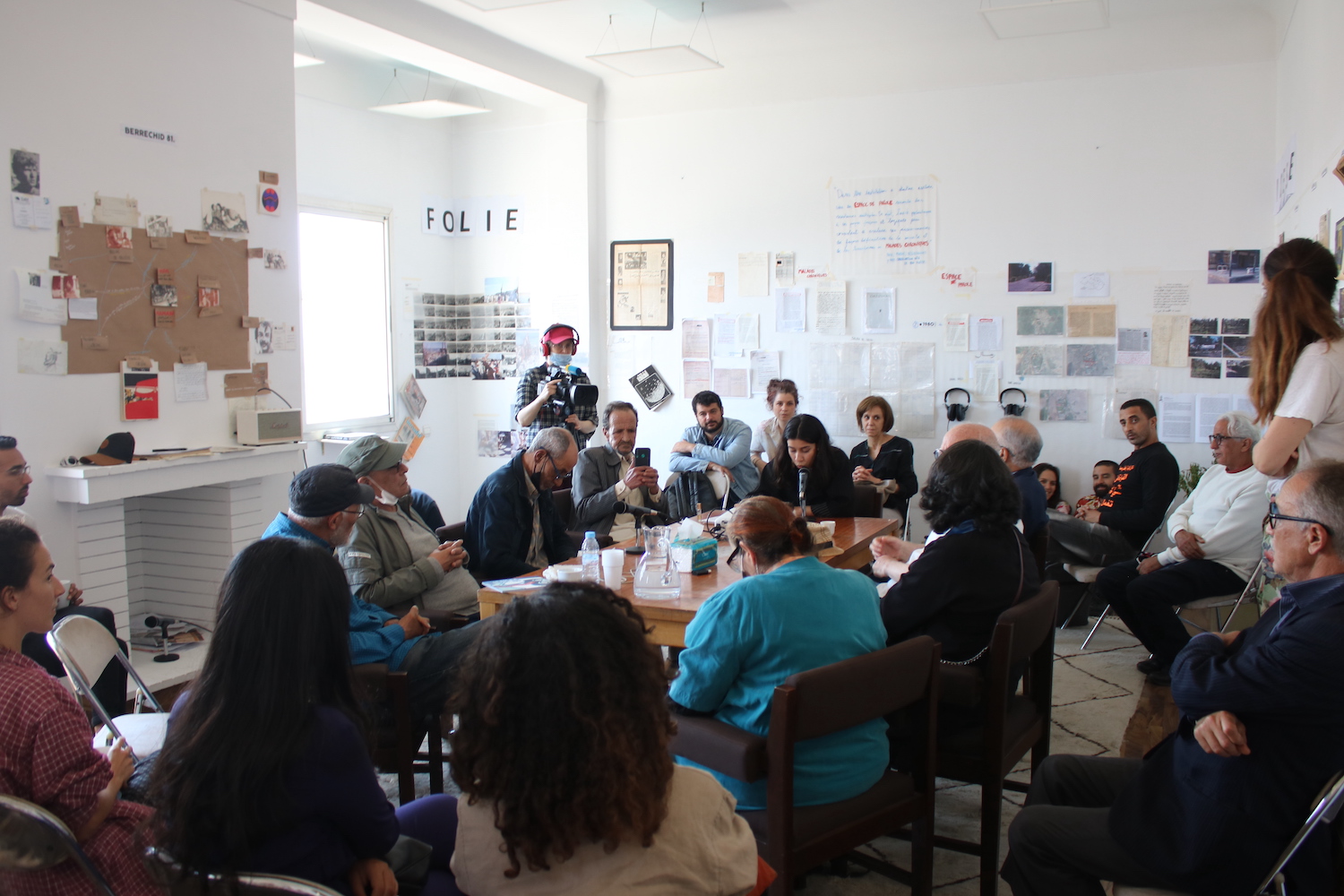 A dérive, through
Casablanca, history and
minds
A Public Programme by Bik Van der Pol
November 2021- Learning together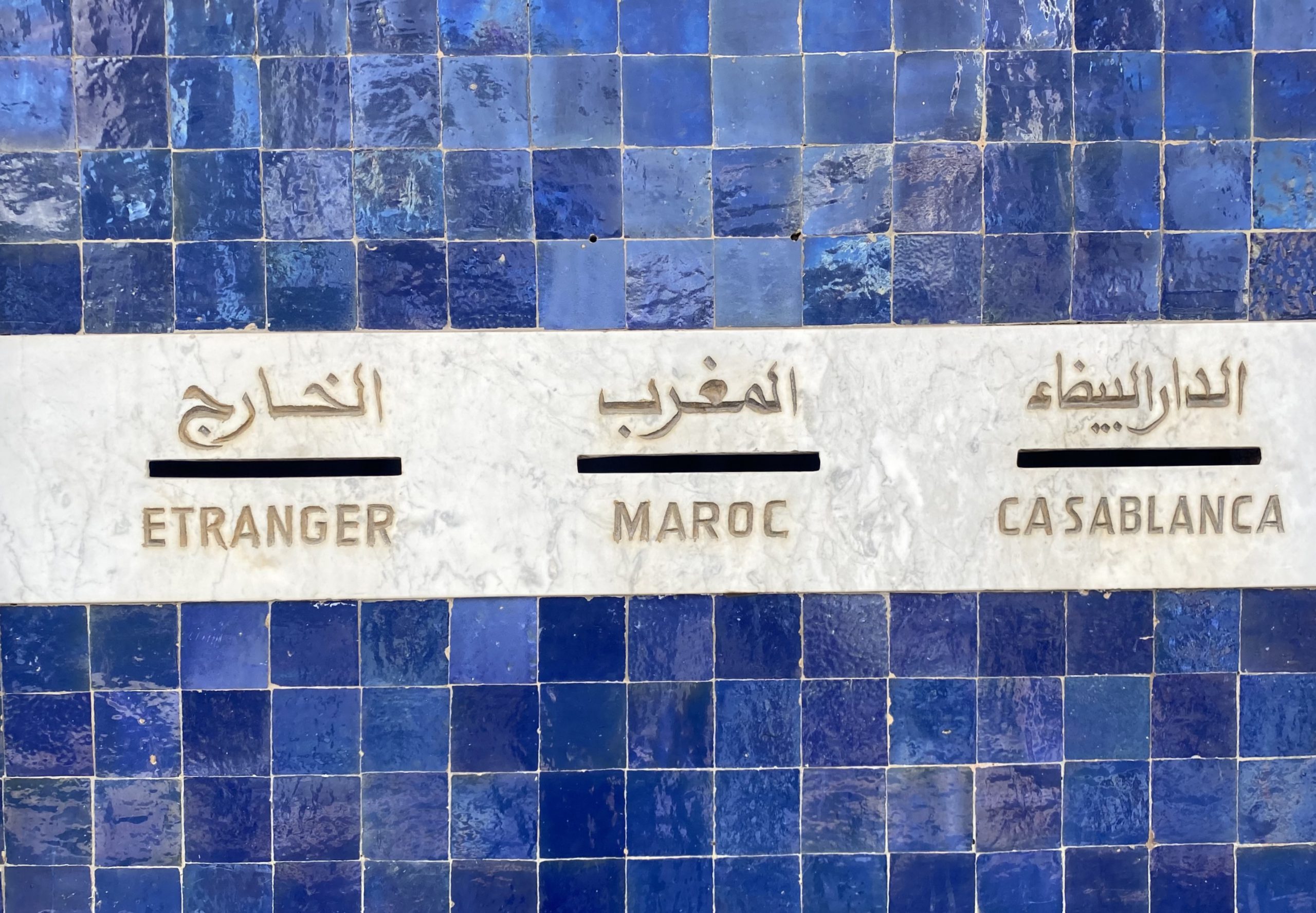 © Bik Van der Pol
During the first part of their research residency in Casablanca, Bik Van der Pol explored the city and encountered its architecture, silent history, ambient noise and inhabitants. Entering into a dialogue with and making a public space into a present aware of its past and potentialities is the common thread of their "dérive".
More
Throughout November, meetings and discussions took place with various cultural actors; Bert Flint, Mamma Group/Lahbib El Moumni, Mohamed Rachdi, Kenza Sefrioui, Sabrina Kamili, Florence Darsi, Maud Houssais, Fatima-Zahra Lakrissa, Maria Karim, Mohamed Jibril, Mehdi Azdem, Eric Van Hove and Said Guiha.
-Salma Lahlou
Artist Talk with Bik Van der Pol
Thursday, 25th November 2021
The talk, moderated by Salma Lahlou and Krist Gruijthuijsen, took place in Casablanca at ThinkArt with a zoom live streaming.
The talk is in English and starts with a presentation by Bik Van der Pol on their practice and ongoing research for the School of Casablanca, followed by a discussion with the moderators and Q/A with the public.