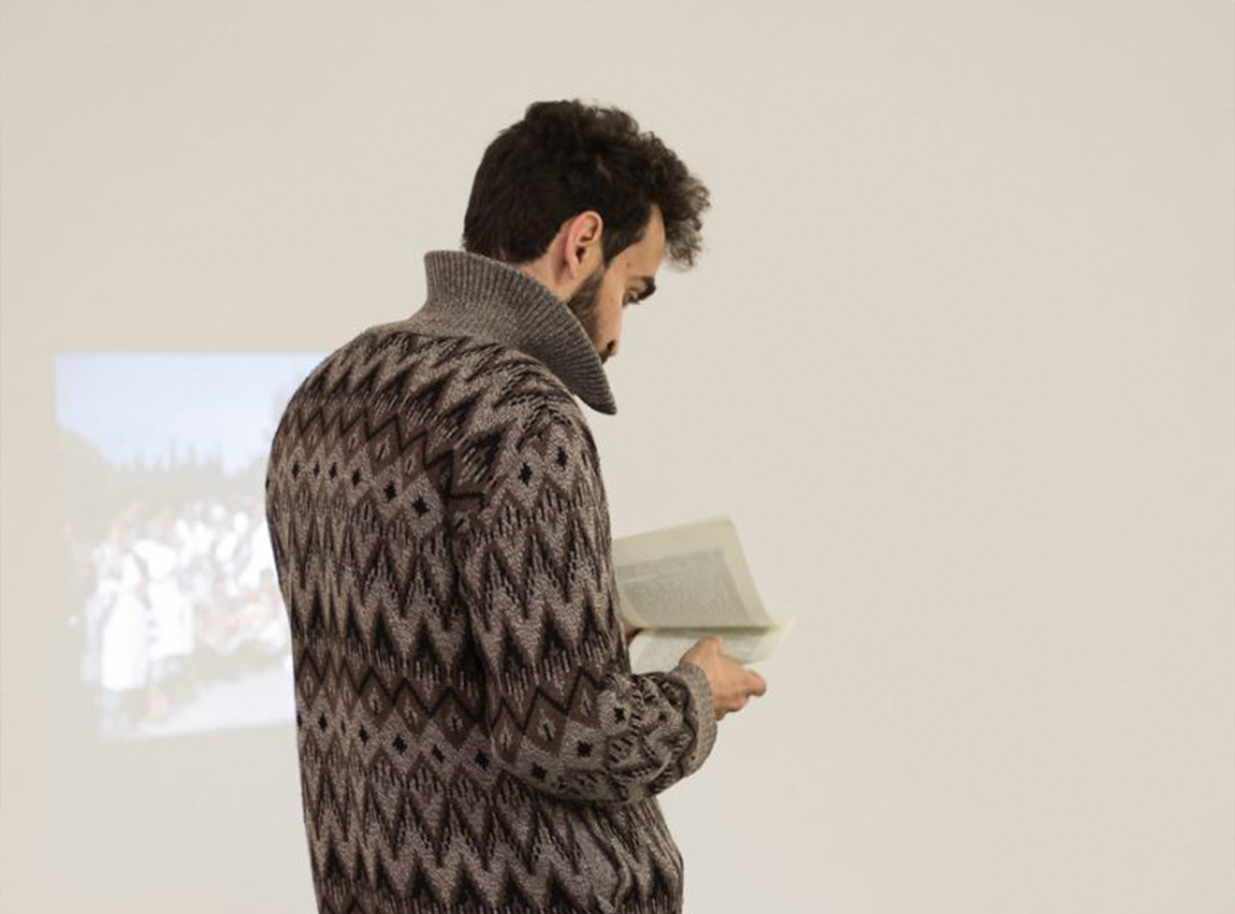 © Abdeslam Ziou Ziou. Photo: Victoria Tomaschko
Abdeslam Ziou Ziou
Abdeslam Ziou Ziou (b. 1986 in Casablanca; lives and works in Casablanca) is an independent researcher and art consultant concerned with collective dynamics in fields including art history and psychiatry in postcolonial Morocco.
His work examines how collective dynamics are created and dissolved ("life–why?" and "death–how?"), also addressing oblivion and creative dynamics and the international circulation of concepts through informal networks of knowledge in a bottom-up approach. Other research interests include institutional psychotherapy, anti-psychiatry, and how Maghrebian postindependence psychiatrists created ways of healing the soul. He is also interested in archives and curation, not as working tools or analytic sources but as material permitting storytelling.
He attempts to understand his family history by assuming a subjective bias within his research practice, not seeking to report a past historical event but instead to tell a story, namely an intimate and poetic one witnessing a period in the recent past in which collective dynamics played a significant role.
Ziou Ziou has participated in a number of exhibitions and transdisciplinary art and research programs, including Untie to Tie, Movement: Bewegung (part of the HOUDOUD–Program), ifa-Galerie (Institut für Auslandsbeziehungen), Berlin (2019) and Ultrasanity: On Madness, Sanitation, Antipsychiatry, and Resistance, SAVVY Contemporary, Berlin (2019).
He is the recipient of several grants and fellowships, including the Akademie Schloss Solitude Fellowship (2023); CAORC (Council of American Overseas Research Centers) / Andrew W. Mellon Mediterranean Regional Research Fellowship in Modern Art History, CEMAT (Centre d'Étude Maghrébines à Tunis, 2020–22); the HOUDOUD–Program Joint Project of Artists and Researchers supported by UNESCO (United Nations Educational, Scientific, and Cultural Organization, 2019); the Fatima Mernissi Chair / University Mohammed V / HEM (Hautes Etudes de Management)–ifa Berlin (2019); and the Casa de La Cultura Oaxaqueña Internship Scholarship (2011), which he completed during his Masters.
Ziou Ziou acted as a mediation training coordinator and mentor for the Al Moutawassit: Cultural Mediation as a Meeting Point program at Manifesta 13 Biennial, Marseille (2020). He also worked as a project and research manager at L'Atelier de l'Observatoire, Casablanca (2018–20).
He has a BA in Applied Foreign Language (English and Spanish) from the Université François Rabelais, Tours (2010). He also holds an MA in International Coopération from the Université Charles de Gaulle Lille 3 (2013) and an MA in Social Anthropology from the EHESS (École des hautes études en sciences sociales), Paris (2017).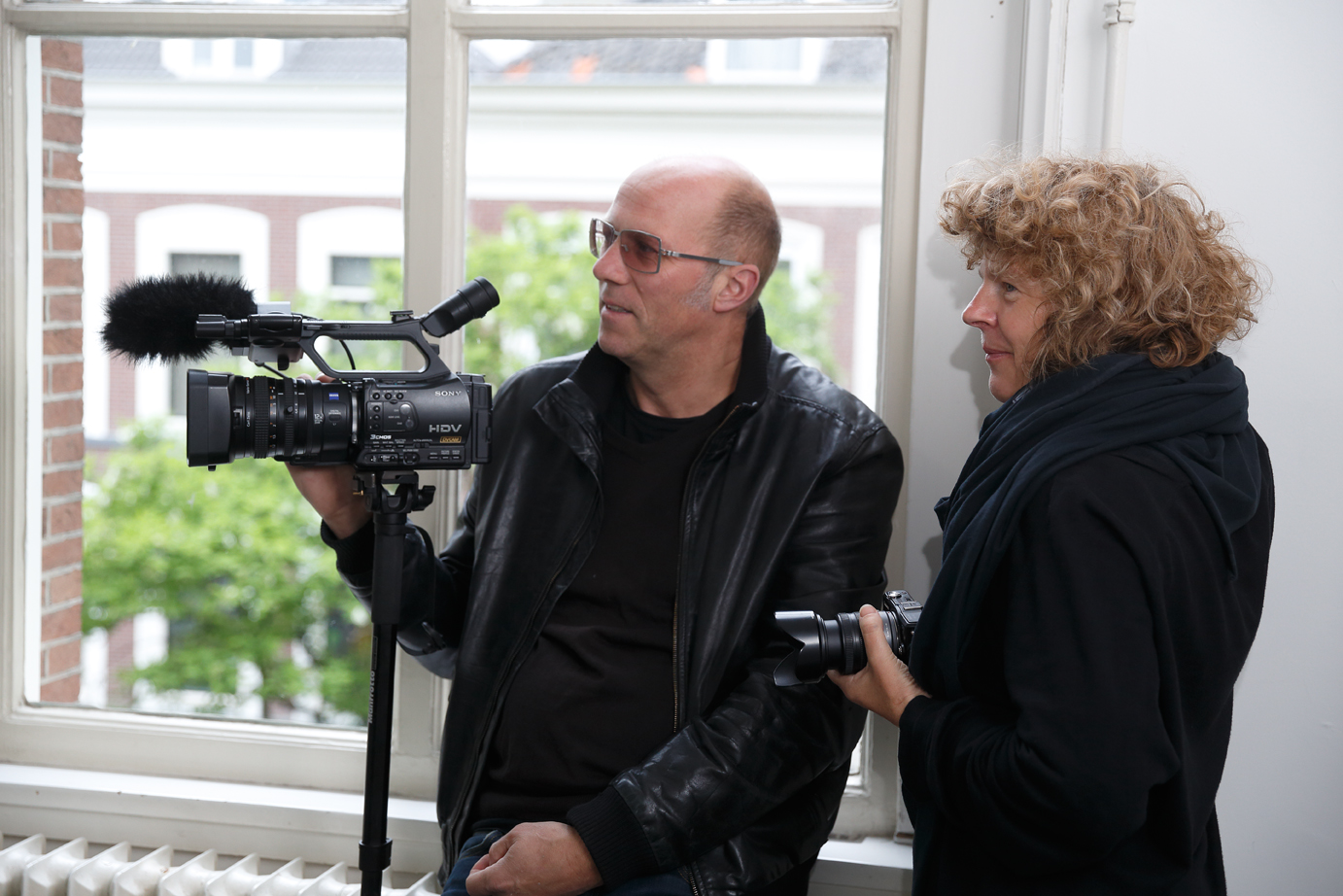 © Bik Van der Pol. Photo: A. Guenther
Bik Van der Pol
Liesbeth Bik and Jos Van der Pol (live and work in Rotterdam), working together as Bik Van der Pol since 1995, aim to articulate and understand how art can produce a public sphere and create space for speculation and imagination. Their practice is site-specific and collaborative and includes publishing, writing, and curatorial work. The artists' mode of working consists of setting up the conditions for encounters, where they develop a process of working that allows for continuous reconfigurations of places, histories, and publics.
Their work has been the subject of numerous solo exhibitions and research projects, including Take Part (part of Public Knowledge, a two-year project that aimed to promote public dialogue on the cultural impact of urban change through artist projects, research collaborations, and public programs), SFMOMA (San Francisco Museum of Modern Art) and Public Libraries Network, San Francisco (2019–20); Czigane—Not the Whole Story, Royal Albert Memorial Museum, Exeter (2019); Far too many stories to fit into so small a box, CCA Zamek Ujazdowski, Warsaw (2019); Eminent Domain, The Power Plant, Toronto (2015); Speechless, PAMM (Perez Art Museum Miami, 2015); Neither Forward Nor Back: Acting in the Present, Jakarta Biennale (2015); From One Citizen You Gather an Idea, Mauritius Pavilion, 56th Venice Biennale (2015); and How to (…) things that don't exist, 31st São Paulo Biennale (2014).  
In 1984, Bik Van der Pol founded the artist-run space Duende in Rotterdam and were actively involved with its activities until 2013. Alongside other artists, they founded Nomads & Residents, a New York-based forum for artists, guests, curators, critics, activists, travelers, and passers-by. They were the program directors of The School of Missing Studies at Sandberg Institute, Amsterdam (2013–15), taught at M.I.T., Cambridge (2016), and have been advisors at the Jan van Eijck Academy, Maastricht since 2012. 
They are the recipients of the Enel Contemporanea Award, MACRO (Museum of Contemporary Art of Rome, 2010); Hendrik Chabot Award, Prince Bernard Culture Fund (2014), and are nominated for the Dolf Henkes Prize (2023), Rotterdam. 
Their work can be found in several collections, including CAFA (Central Academy of Fine Arts) Museum, Beijing; Nam Jun Paik Art Center, Yongin-si, Gyeonggi-do; Van Abbe Museum, Eindhoven; MACRO, Rome; and Ludwig Museum, Budapest.
Liesbeth Bik and Jos Van der Pol studied at the Rotterdam Art Academy (now Willem de Kooning Academy). Liesbeth Bik also studied Word and Image at the Free University (VU), Amsterdam. 
© Studio Manuel Raeder. Photo: BLESS / Ines Kaag
Manuel Raeder
Manuel Raeder (b. 1977 in Erlangen; lives and works in Berlin) is the founder of Berlin-based interdisciplinary design studio Studio Manuel Raeder (2003), which works in a wide range of formats and explores the boundaries between exhibitions, ephemera, books, type design, editing, and publishing as well as furniture design and curatorial praxis. The studio is concerned with the construction of narratives, in the form of books and exhibition and communication design, and with the meaning of books within space and archives as well as the future of libraries. Most of the furniture pieces, as well as several exhibition display systems that the studio has developed, started with questions such as how to deal with books and archives within space and how different forms of organizing and categorizing define or alter history. 
Studio Manuel Raeder has contributed to numerous exhibitions and projects in Germany and internationally, through architectural, exhibition, graphic and/or furniture design work. These exhibitions and projects include Untimely, Again: Christoforos Savva (1924–68), Cyprus Pavilion, 58th Venice Biennale (2019); Muebles Manuel,  Kunstinstituut Melly, Rotterdam (2018); and Eduardo Costa: Mental Relations, Museo Tamayo Arte Contemporáneo, Mexico City (2017). 
The studio has engaged in designing, publishing, and editing over two hundred artists' books, in addition to being responsible for the communication strategies and graphic identities of several cultural institutions and galleries across the world.
In 2011, Raeder established the publishing house BOM DIA BOA TARDE BOA NOITE in Berlin. He is currently a teacher in the newly established MA in Graphic Design program at the Estonian Academy of Arts, Tallinn. 
He holds a BA in Graphic and Media Design from the London College of Printing (1996–2000) and a postgraduate degree in Art, Design, and Theory from the Jan van Eyck Academie, Maastricht (2001–3).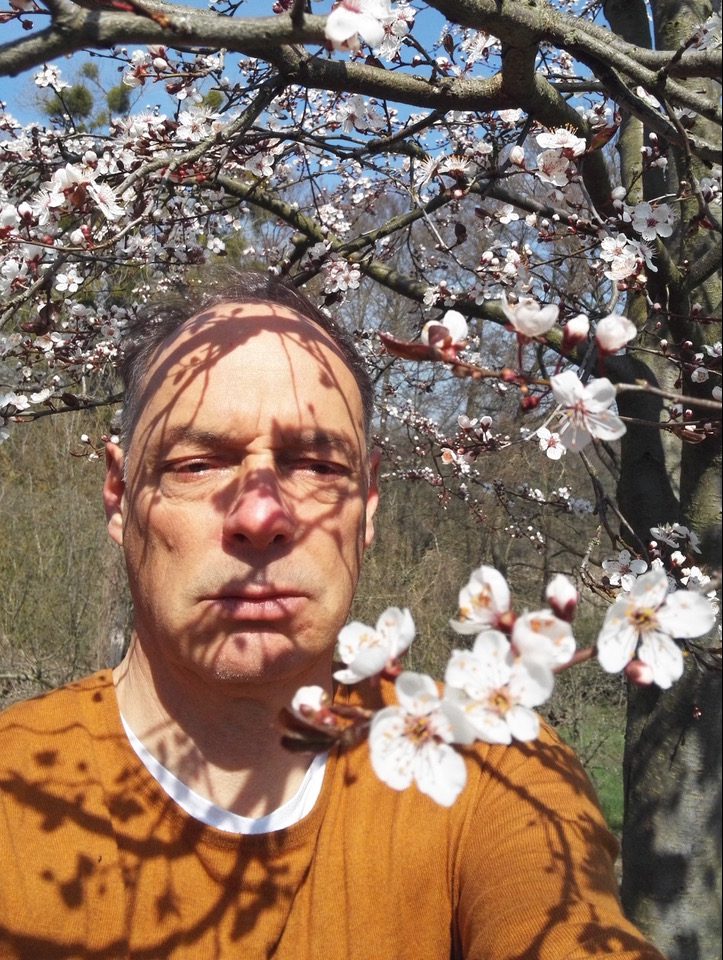 © Peter Spillmann. Photo: Selfie
Peter Spillmann
Peter Spillmann (b. 1961 in Emmental; lives and works in Berlin) is an artist, curator, and lecturer whose practice and interests revolve around collective ways of working and self-organized forms of knowledge production and mediation. He is particularly intrigued by methods of artistic research and the exploration of artistic strategies in diverse social contexts. Additionally, he actively engages in strategies of mapping as a collaborative and reflexive approach to situational knowledge production. Furthermore, he delves into the culture of tourism, tourist spaces, and everyday worlds. He examines the roles of tourist actors and practices within the context of contemporary culture, and views tourism as a laboratory of cultural globalization. 
He is co-founder of various self-organized platforms such as Labor k3000 (1998) and CPKC (Center for Postcolonial Knowledge and Culture, 2008) and has developed thematic projects and exhibitions in changing interdisciplinary contexts such as Cohabitation: A Manifesto for Animal and Human Solidarity in Urban Space, ARCH+ and silent green, Berlin (2021–22); fallingwild.org (2019); Viet Nam Discourse, a collaboration with Tentsa Konsthall, Stockholm (2016–17); mapping.postcolonial.net (2013); transculturalmodernism.org (2012); This Was Tomorrow, HKW (Haus der Kulturen der Welt), Berlin / MACBA (MACBA Museo de Arte Contemporáneo de Barcelona) / Museum Sztuki Warsaw (2008); Top of Experience, Kunstpanorama, Kunsthalle Luzern (2008); Panorama of Labour, Forum Schlossplatz, Aarau (2007); The Park, Kunstraum Lakeside, Klagenfurt (2006–7); MigMap, Kölnischer Kunstverein, Cologne (2005); Backstage*Tourism, Forum Stadtpark, Graz (2004); and Be Creative!, Museum für Gestaltung Zürich (2002). Many of his most important projects were created in a close collaboration with Marion von Osten that lasted over twenty years before she passed away in November 2020. 
He has been teaching and researching at the Lucerne University of Applied Sciences and Arts—Design and Art in the MA in Fine Arts program with a focus on Art in Public Spheres since 2009, and has been the director of the StudioLab Eco! there since 2021. He studied at the F+F School for Experimental Design, Zurich.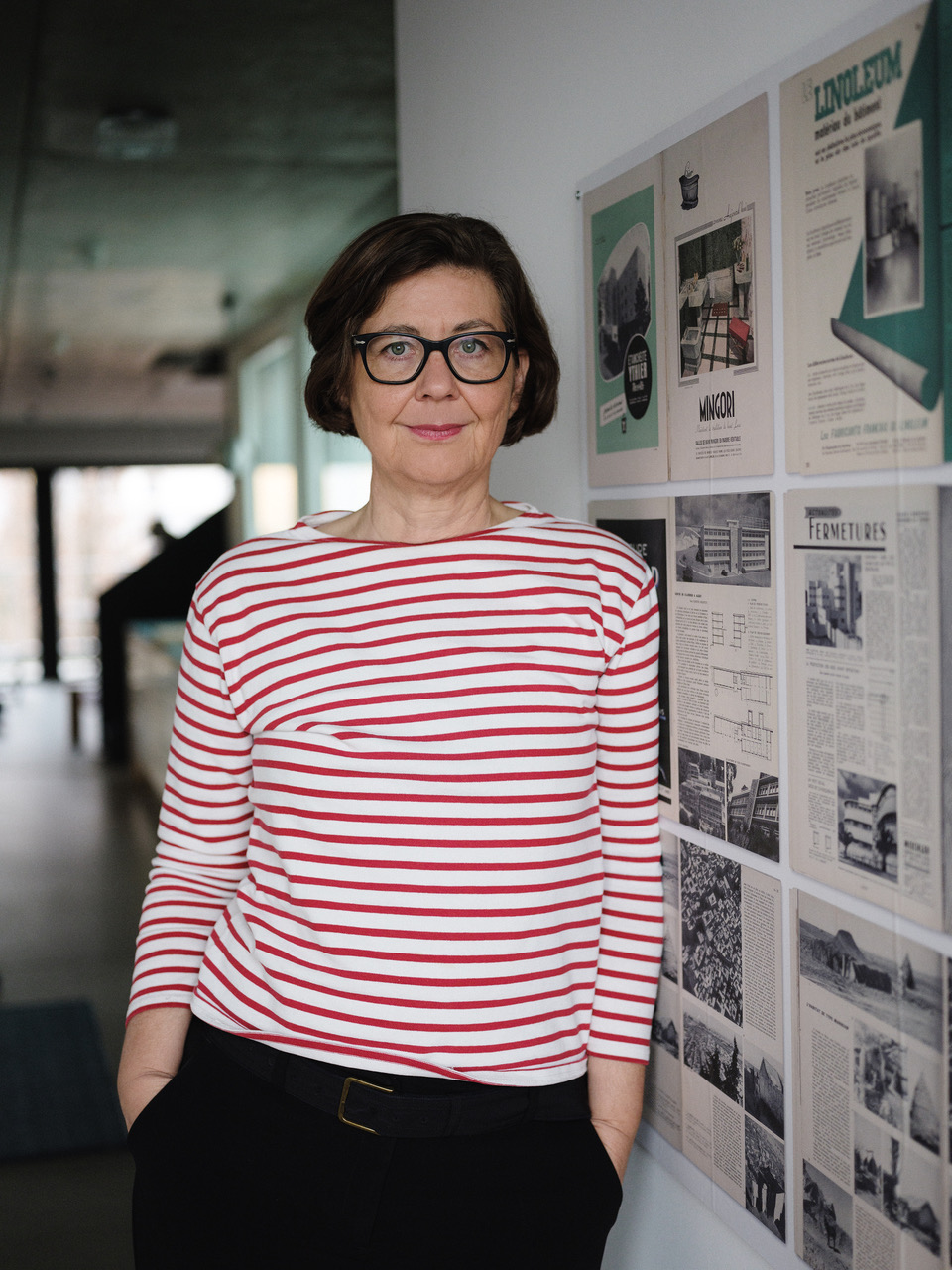 © Marion von Osten. Photo: Wolfgang Stahr
Marion von Osten (1963–2020)
Marion von Osten's (b. 1963 in Dortmund; lived and worked in Berlin until her death in 2020) curatorial, artistic, and theoretical approaches converged through the media of exhibitions, installations, video, and text productions. Her main research interests concerned cultural production in postcolonial societies, technologies of the self, and the governance of mobility. She was a founding member of the Center for Postcolonial Knowledge and Culture (CPKC) and kleines postfordistisches Drama (kpD) collectives in Berlin, as well as the design collective Labor k3000 in Zürich. 
She curated and led numerous exhibition and research projects including bauhaus imaginista (2016–20), with Grant Watson; Viet Nam Discourse, Württembergischer Kunstverein, Stuttgart, and Tensta Konsthall, Stockholm (2016–18), with Peter Spillmann; Aesthetics of Decolonization, Center for Postcolonial Knowledge and Culture, Berlin (2014–16); and Model House—Mapping Transcultural Modernisms, Academy of Fine Arts, Vienna, and CPKC, Berlin (2010–13).
Von Osten co-edited many publications including bauhaus imaginista, with Grant Watson (Thames & Hudson, London, 2019); Transcultural Modernism, with Model House Research Group (Sternberg Press, Berlin, 2013); Das Erziehungsbild. Zur visuellen Kultur des Pädagogischen, with Tom Holert (Schleebrügge, Vienna, 2010); and Colonial Modern: Aesthetics of the Past, Rebellions for the Future, with Tom Averemaete and Serhat Karakayli (Black Dog Publishing, London, 2010).
In 2014, Von Osten assumed the position of curator and artistic director of bauhaus imaginista, and was joined by Grant Watson in 2016. She was professor for Art and Communication at the Academy of Fine Arts, Vienna (2006–12); professor of Artistic Practice and researcher at the Institute for the Theory of Art and Design (ith ZHDK), Zürich (1999–2006); and curator at Shedhalle Zürich (1996–99). She received her PhD in Fine Arts from the Malmö Art Academy at Lund University.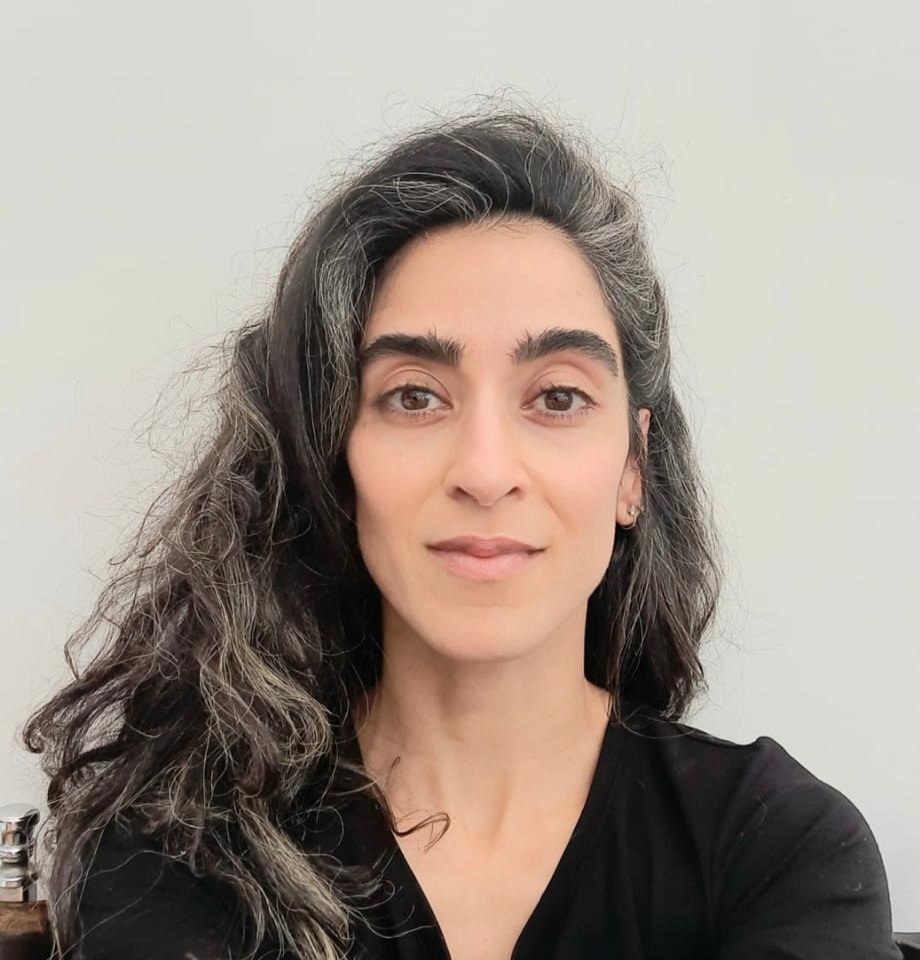 © Fatima-Zahra Lakrissa. Photo: Abdessamad El Montassir
Fatima-Zahra Lakrissa
An independent curator and researcher, Fatima-Zahra Lakrissa (b. 1976 in Rabat; lives and works in Rabat) is interested in the layered subjectivities of European modern art history and the construction of Moroccan modernism through the works of artists engaging with the vernacular. Her research is oriented toward the sociology and history of the artistic avant-garde in Morocco during the 1960s and 1970s. Lakrissa also studies contemporary art practices that tend to reorganize relations between rural and urban areas, scholarly and popular culture, and crafts and fine arts, and analyzes the new patrimonial and historiographical perspectives they reflect.
Her curatorial projects include Mohammed Chabâa: Visual Consciousness, Zamân Books & Curating, Cultural Foundation, Abu Dhabi (2021); À l'épreuve du tamis, LE 18, Marrakech (2020); Belkahia contemporain, Artorium, Casablanca (2019); and Ahmed Cherkaoui: Entre modernité et enracinement, Musée Mohammed VI, Rabat (2018). She was also the associate curator for The Casablanca School of Fine Arts: Belkahia, Chabâa, Melehi and the fabrication of art and history, 6th Marrakech Biennial (2016). She is the author of several essays published in exhibition catalogs and specialized magazines.
Lakrissa is an alumni of Independent Curators International's Curatorial Intensive programme in Marrakech (2015). She participated in the launch of the Mohammed VI Museum of Modern and Contemporary Art (MMVI) as an intern at the National Foundation of Museums, where she joined the team of researchers entrusted with the preparation of the inaugural exhibition (2012). She stayed on at the MMVI as the person in charge of cultural programming (2013–18).
She holds a BA in Fashion Design (2005), a BA in Art History (2009), and an MA in Art History (2012) from the Université du Québec in Montréal.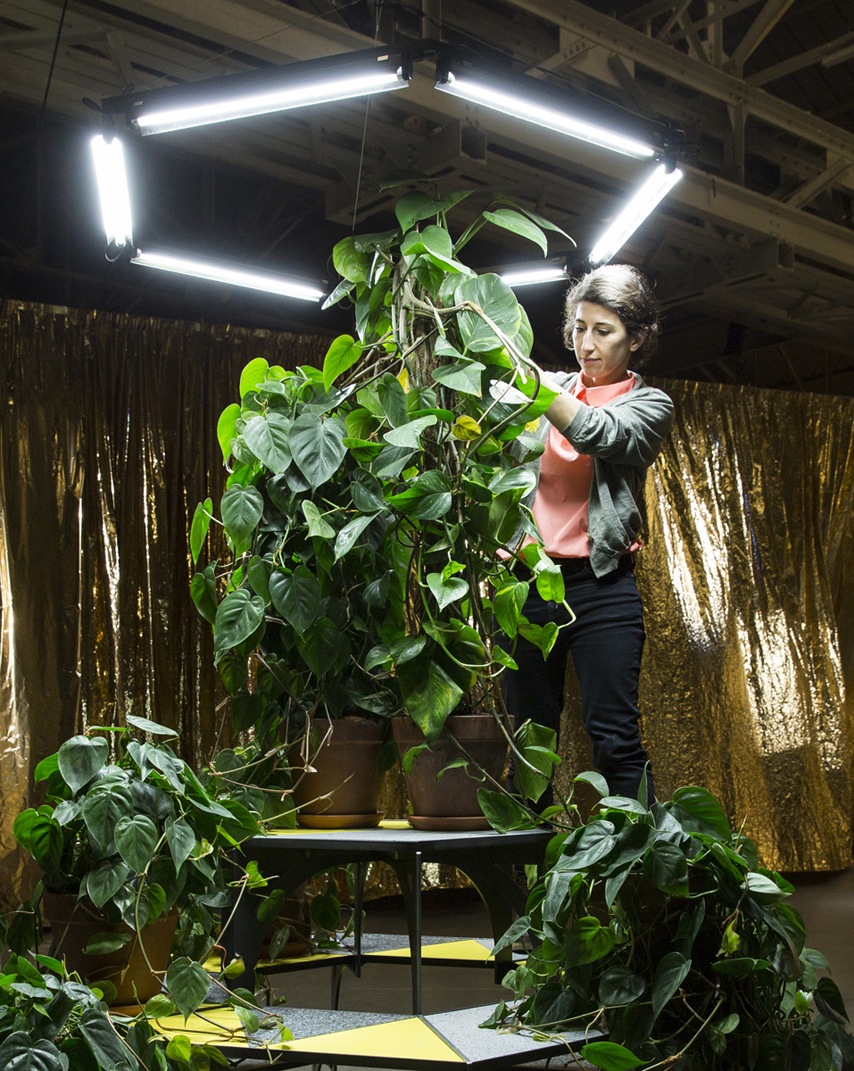 © Céline Condorelli. Photo: Agostino Osio
Céline Condorelli
Céline Condorelli is an artist ( lives and works in London) who makes exhibitions, installations, publications, sculptures, and architectures. She is interested in how our encounters with the material world take place by relying on it, and how all human action takes place amidst countless structures of support mostly taken for granted, and therefore appearing invisible. From raw materials, cultivation, and extraction, to processes of industrialization and labor, to methods of display, reception, and transmission, Condorelli's practice closely communicates the methods and labor of its creation.
A selection of exhibitions and projects include: Pentimenti (The Corrections), National Gallery, London (2023); After Work, Talbot Rice Gallery, Edinburgh and South London Gallery (2022); Our Silver City 2094, Nottingham Contemporary (2022); Dos años de vacaciones, TEA, Tenerife (2021); Deux ans de vacances, FRAC Lorraine, Metz; Ground Control, Bildmuseet, Umeå (2020); Every Step in the Right Direction, Singapore Biennial (2019); Art Encounters Biennial, Timisoara (2019); Céline Condorelli, Kunsthaus Pasquart, Biel (2019); Host / Vært, Kunsthal Aarhus (2019); Zanzibar (commissioned sculpture), King's Cross Projects, London (2019); Geometries, locus athens (2018); Anren Biennale, Chengdu (2018); Céline Condorelli: Epilogue, P!, New York (2017); Wall to Wall, Museum of Contemporary Art Leipzig (2017); Proposals for a Qualitative Society (Spinning), Stroom Den Haag (2017); Corps à Corps, IMA Brisbane (2017); Conversation Pieces, MASP, São Paulo (2016); Gwangju Biennale (2016); Liverpool Biennial (2016); Biennale of Sydney (2016); Display Show, Stroom den Haag and Temple Bar Gallery, Dublin (2015); and bau bau, HangarBicocca, Milan (2015).
She has published numerous texts in publications and print journals, and several books, including bau bau (Mousse Publishing, 2017), The Company She Keeps (Book Works, Chisenhale Gallery, and Van Abbemuseum, 2014); and Support Structures (Sternberg Press, 2009). 
She is the 2023 National Gallery Artist in Residence, is currently professor at HfG (Hochschule für Gestaltung) Karlsruhe, and was one of the founding directors of Eastside Projects, Birmingham.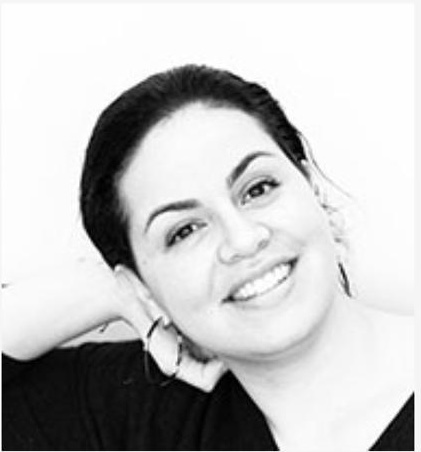 © Amina Belghiti 
Amina Belghiti 
Amina Belghiti (b. 1978; lives and works between Paris and Casablanca) is an independent researcher exploring collective pedagogical experiments that shaped artistic ecosystems across the continent during the 1960s–80s. She is interested in the artist book as a curatorial and emancipatory space and is currently conceiving of an as-yet-unidentified communal publishing practice and experimental research space that acts as a refuge. 
Her most recent contributions to editorial and curatorial projects include the Chimurenga Library, BPI (Bibliothèque publique d'information) / Centre Pompidou, Paris (2021) and the Pan-African Space Station, Goutte d'Or, Paris (2021). She was part of a collective French translation of The Undercommons: Fugitive Planning and Black Study by Fred Moten and Stefano Harney (Brook, 2022) and participated in writing residencies at Caravane Tighmert, Guelmim (2022); Cosmologies of Revolt (2020); and Ideas City, LUMA Arles (2018). 
She holds degrees from Williams College, Williamstown and Harvard University, Cambridge, and dropped a degree from EHESS (École des hautes études en sciences sociales), Paris.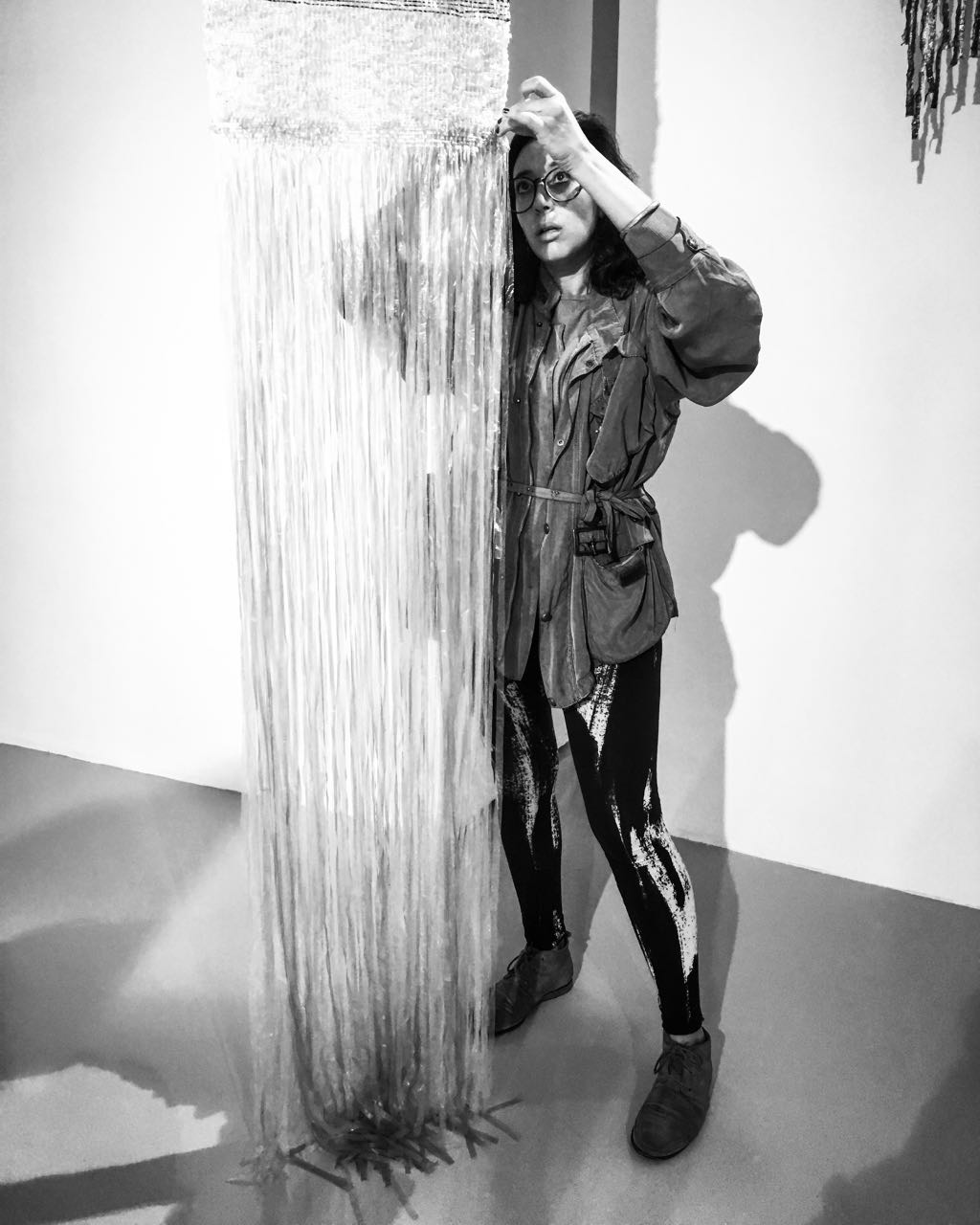 © Soukaïna Aziz El Idrissi. Photo: Alya Mrabet 
Soukaïna Aziz El Idrissi
Soukaïna Aziz El Idrissi (b. 1987 in Casablanca; lives and works in Casablanca) is a visual artist who has extended her research on plastic waste as a social phenomenon, exploring all the possibilities this material, deemed waste, has to offer. Her aim is to interrogate its use value and the perception people have of it. She employs a wide range of techniques, often experimental, to comprehend and present the material in a new light.
She has participated in numerous exhibitions in Morocco and the UK: Second Life, MACAAL (Museum of African Contemporary Art Al Maaden), Marrakech (2018); FEMMES: Artistes Marocaines de la Modernité 1960–2016, Musée Mohammed VI d'Art Moderne et Contemporain de Rabat (2016); Rupture, CM Gallery, Marrakech (2016); Billboard's Festival in the Desert / Harmonia Mundi, Sahara Desert (2015); Crossways / Al Multaqa, Nour Festival of Arts, Leighton House Museum, London (2013); Calibrated Composition, Trinity Buoy Wharf, Docklands, London (2012); and Weaving the Threads of Livelihood, SOAS: Brunei Gallery, London (2011). ThinkArt dedicated a monographic exhibition, Chemistry's Greatest Achievement, to her in November 2015 in Casablanca. Soukaïna Aziz El Idrissi is also co-founder of the Zero Zbel NGO.
Soukaïna spent nine years (2005–14) in London, where she studied, taught, and participated in several artistic events, seminars, and symposiums. She studied at Central Saint Martins College of Art and Design, where she graduated with a BA (Hons) in Textile Design, specialized in weaving, and later went on to get an MA in Design, Craftsmanship, and Entrepreneurship from Northumbria University.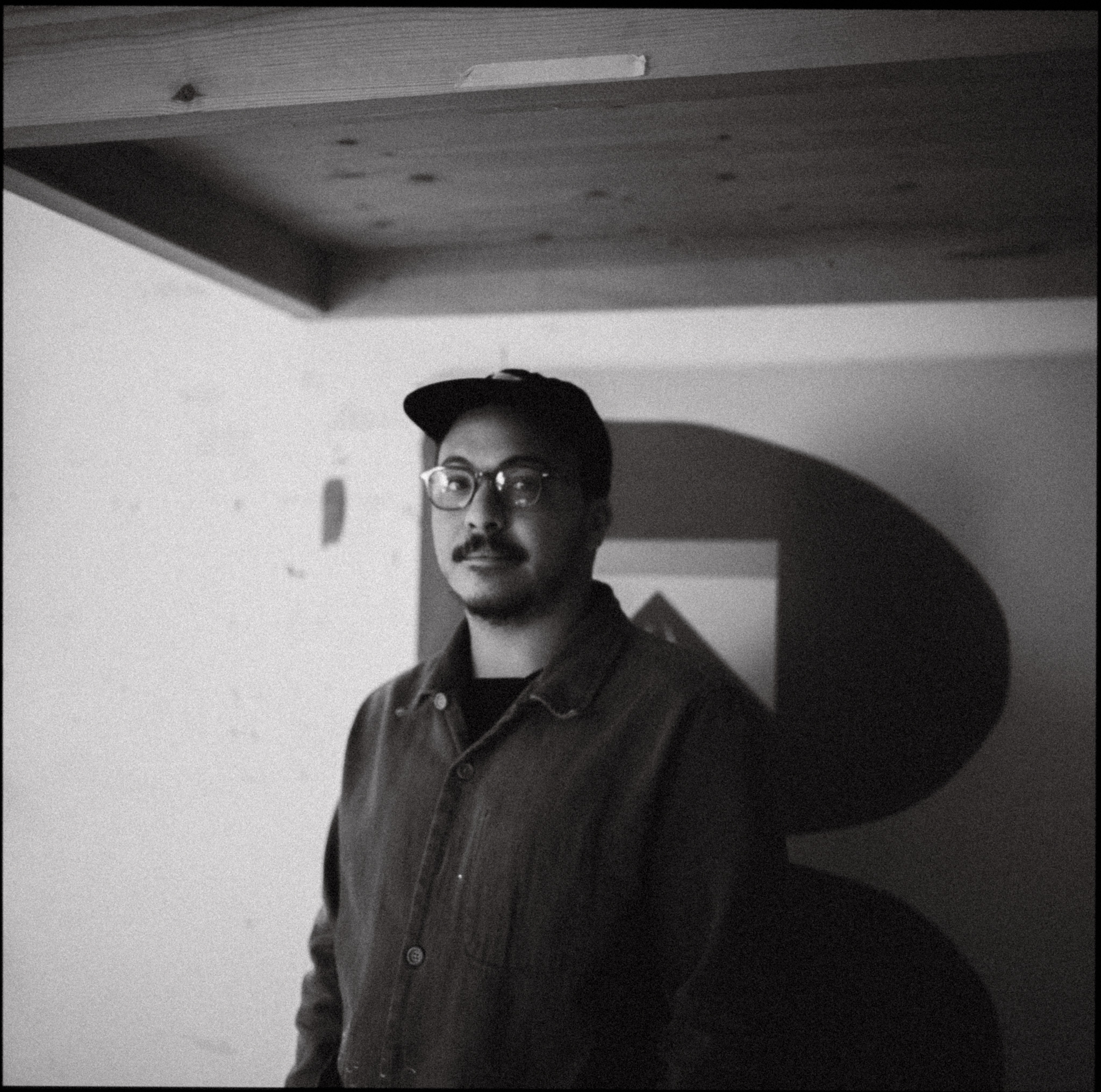 © Nassim Azarzar. 
Nassim Azarzar
Nassim Azarzar (b. 1989; lives and works between Paris and Rabat) is an artist and graphic designer whose practice and interests revolve around imagery and popular imaginaries by exploring their different forms, occurrences, and devices of representation in a Moroccan context. His Bonne route project spotlighting the decorative practices on trucks between Moroccan port cities and villages not only broadened his engagement with Moroccan streets as active sites of aesthetic phenomena but also catalyzed the construction of an autonomous visual language. Azarzar's aesthetic research encompasses decorative arts, painting, drawing, sculpture, and experimental cinema.
Before joining QANAT, a collective of artists and researchers exploring water in its political and poetic dimensions (2019), Azarzar co-founded Atelier Superplus, a design studio operating between Paris, Bristol, and Tangier (2014); Think Tanger, a platform dedicated to the exploration of the city of Tangier and its extensions at the urban and visual levels (2016); and Atelier Kissaria, a space focused on experimental printing practices (2017).     
Azarzar has participated in numerous exhibitions and transdisciplinary art and research programs, including the solo exhibition Pièces détachées, L'appartement 22, Rabat (2022) and the group exhibitions A Door to the Sky (Or a Plea for Rain), documenta fifteen, Kassel (2022) and The Whole World a Bauhaus, ZKM (Zentrum für Kunst und Medien), Karlsruhe (2019).
He is the recipient of several grants and fellowships, including from Waraq, Beirut (2023); Pro Helvetia Cairo, Zürich (2023); Delfina Foundation, London (2023); NAJM, Lieux communs, Marseille (2023); Arab Fund for Arts and Culture (2020); African Fund for Culture (2020); and HOUDOUD Residency, Berlin and Tetouan (2019). Azarzar studied at the School of Art and Design, Orléans.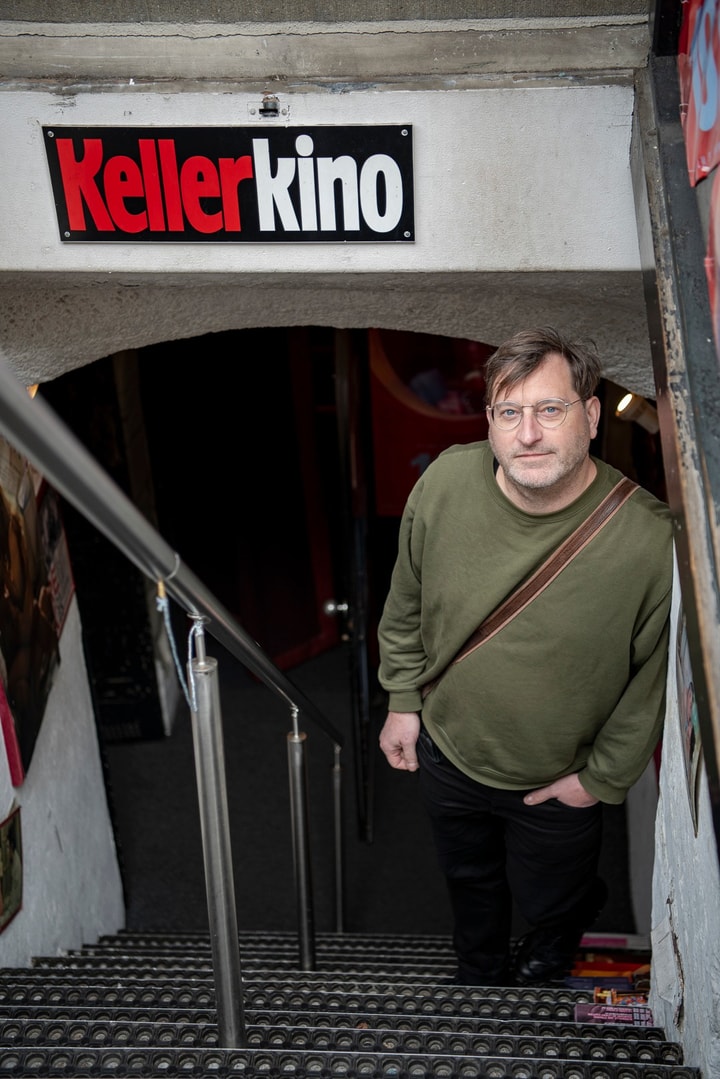 © Gilles Aubry. Photo : Karin Scheidegger 
Gilles Aubry
As a sound artist, musician, and researcher, Gilles Aubry's (b. 1973 in Delémont; lives and works between Lausanne and Berlin) multidisciplinary practice combines field recording, performance, film, installation, and radio pieces to explore the relationships between sound, music, space, memory, and social and political issues. His work relies on engagement with the acoustic environment and its cultural, historical, and sociopolitical contexts, often incorporating collaborative and participatory approaches.
Recent projects include The Whistle, a sound installation with the VACUT (Voices Against Corruption and Ugly Trading) Group, commissioned by OTO Sound Museum, Zurich (2022); Atlantic Ragagar, a film exploring ecological voices on the Moroccan Atlantic coast (Special Mention), Ji.Hlava IDFF (International Documentary Film Festival, 2022); Salam Godzilla, a film essay shot in Agadir about the 1960 earthquake, which premiered at FIDMarseille (2019) and was shown in the exhibition Love and Ethnology—The Colonial Dialectic of Sensitivity, HKW (Haus der Kulturen der Welt), Berlin (2019); Black Anthenna, a performance with Nathalie Mba Bikoro created for the Tuned Cites festival, Messene (2018); and The Gramophone Effect, a sound piece created with Robert Millis and the Indian collective Traveling Archive, commissioned by documenta14, Kassel and Athens (2017).
Gilles Aubry's works have been presented at numerous international art institutions, film festivals, and music venues, earning him two Swiss Art Awards (2012 and 2015) and a European Sound Art Prize (2016). He has released several music records solo and with the band MONNO.
He holds a PhD in social anthropology from Bern University and teaches sound art and sound studies at UDK (Universität der Künste) and HMKW (Hochschule für Medien, Kommunikation und Wirtschaft) in Berlin.